I'm A NYX Cosmetics Rep!!
I'm am seriously ecstatic right now, I just got in my NYX representative package today!! For those of you who do not know what I'm talking about, NYX Cosmetics recently began doing catalogue sales a few months ago, and yesterday I received all my testers, which turns out to be over $600 in FULL SIZED PRODUCTS!!!!!
I'm pretty sure I had a NYX inspired orgasm last night
. Anyway I have more details coming tomorrow about what came in my package, but I wanted to leave you with this picture….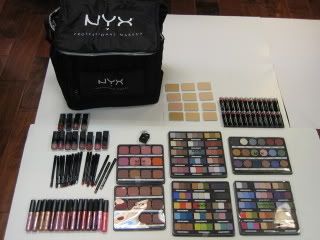 22 Comments »
I just put an inquiry in on becoming a NYX, I love all the shadows. The shadows are so comparable to MAC, and very affordable for the everyday person.

Comment by Bernadette | May 13, 2008 |

I meant NYX rep.

Comment by Bernadette | May 13, 2008 |

I definitely think it's a great idea, you would enjoy it!

Comment by phantomgoddess | May 13, 2008 |

I should have asked Ana at Nyx and I didn't. Maybe you could help. Some general questions:
Do I need to sell a certain amount to stay active?
What happens if a customer wants a refund?
Am I required to recruit a downline?
If you may answer I would be so grateful.

Comment by Bernadette | May 17, 2008 |

This is a huge kit for that price! Looks like so much fun to play with! OMG I totally want to inquire about the program now. Thanks so much for sharing!

Comment by nyxsocialite | May 27, 2008 |

Hello

I was just wondering how long did it take for them to respond after you sent your application? Do you have to have a cosmetic sales rep background to be able to apply?

Comment by Lea | June 10, 2008 |

You do not need sales rep experience in order to sign up with NYX. All you have to do is fill out a single sheeted form answering a few questions and why you want to be a rep for NYX.

Comment by phantomgoddess | June 10, 2008 |

hey! i sent an email to ana about becoming a NYX rep. how long did it take before she contacted you back?

Comment by tanya | July 21, 2008 |

Hi Tanya, it takes a day or two for her to get back to you. There is also a number you can call listed on the NYX website.

Comment by phantomgoddess | July 21, 2008 |

haha yeah i called but it went striaght to her voicemail so i left a message! hopefully she'll get back to me soon!

Comment by tanya | July 21, 2008 |

btw is this the stand sample pack they still give you if you purchase it for 60? i was just wondering if they changed it up and added more items like the eyeshadow pencils and stuff! =]

Comment by tanya | July 21, 2008 |

hi I would love to be a rep too, but I live in Canada , is this open to Canadians too? I know tons of people who love make up like I do please email me and let me know , thanks

Comment by Valerie | August 18, 2008 |

Hi Valerie, right now NYX only has this offer available for US and US Territory residents. You can always contact them directly to ask if they are going to do something like this for Canada.

Comment by phantomgoddess | August 22, 2008 |

This is for phantomgoddes, tell me how your sales are doing? how has it all been so far?? im afraid to take the plunge tell me more, I spoke to a NYX rep today and she made me the offer, what do you do to market yourself??

Comment by Jossie | September 23, 2008 |

I don't sell to others, I just started this for me, to be able to access this brand at a decent price. I didn't have any stores near me that sold it.

You should ask Adrienne. She has started to sell NYX

Comment by phantomgoddess | September 23, 2008 |

Phantomgoddess my email is castrojossie@gmail.com please write..I wanna know…

Comment by Jossie | September 23, 2008 |

how can I contact her??? I dont know who she is???

Comment by Jossie | September 23, 2008 |

a friend from youtube referred me to this page because i wanted to know more about being a nyx rep! i am so happy she did because you all answered all my questions!! i really think i am going to do it!! i really want that makeup and i need some extra cash right now for college!!
-s@mmi

Comment by Samantha | December 10, 2008 |

I'm glad you got the information that you need Samantha. Who was it that referred you to me? I'm just curious

Comment by phantomgoddess | December 10, 2008 |

can you send me a nyx catelog? i would like to buy from you….to see some catelog specials!!! because no one around my area sells NYX.
w/b it would be appreciated.

Comment by Shelby | February 6, 2009 |

I personally don't sell the brand – I just signed up to get the discount basically. If you want to purchase NYX, get it from either Cherry Culture or the NYX Cosmetics website.

Comment by phantomgoddess | February 12, 2009 |