Information on being a NYX Representative
**Update 6/09** NYX Cosmetics is no longer accepting applications for new Reps. I am leaving this up for reference. I know nothing more than that. I do not work for NYX.
Thank You

One of my lovely readers asked me a few questions on some of the finer points of being a NYX rep. Since there isn't a lot of information on the ins and outs of the program, I thought I'd share my knowledge with all of you.
For NYX there is no stipulation in where you have to sell a certain amount of product in a particular time frame in order to stay in the program. It is very possible to purchase the option that you want, (I chose plan B) and never have to order from them again. So there is no pressure to meet a selling or buying quota.

There are two options in the home sales. I chose the "Option B" plan. So all of my info is directed towards this option, which in my opinion is the BEST option. Here is what was sent to me by NYX:
Selling Option A
You can sale as a sales representative for NYX and earn commission at the end of the month.
You are a sales Representative for NYX cosmetics that will go out and sell NYX products to general public. The Representative will receive 30% commission on the gross sales amount at the end of the month.
If sales are made in California, there will be and 8.25% sales tax.
If sales are made in another state, there will be no sales tax.
Rep. Takes the orders sends them to NYX.
NYX will ship all products with USPS regular ground shipping to customers.
With orders over $50.00 the customers will not have to pay shipping.
A $6.00 Shipping fee will be added to those orders under $50.00.
All orders must be pre-paid with money order or credit card.
The W-9 form is only needed if you choose to be a sales rep with commission from Option A. if you choose Option B we do not need the form back.
Package # A is $10.00 and it comes with the following:
NYX representative official card

2 catalogs

2 order forms

& a goody bag as a gift for you
Option B
You can purchase products from NYX at 50% off and sell to the general public yourself.
The Representative will go out and sell NYX products to the general public. This Representative will purchase products and sell their own inventory.
NYX will give 50% OFF the products which will give the representative a 100% profit on their investment.
For this option you must provide NYX with a sales permit.
If the Rep. does not have a sales permit, NYX will still Give 50% OFF but it will be + tax.
Rep. can charge tax to general public and get their investment back.
Package # B is $ 60.00 it comes with all of the items in package #1 plus,
A large Carrying case for make up

Various cosmetics testers in retail valued over $ 600.00
NYX is not like Avon, in which you have to recruit people to sell the company's products in order to make money. You deal directly with the company itself, and there is absolutely no recruiting to be done.

For returns, each option is a little different. For option A, if a person wants a refund, I believe they would contact NYX about a return or exchange. However, I'm just guessing on this one. When it comes to Option B, you are the one responsible to giving the buyer's money back, since you have purchased the products out right from NYX. This subject did not come up in my talks with NYX.
If there is anything you gals need to know, just leave me a comment
And, just to refresh your memory, here is the picture of the testers you receive with the Option B plan. This DOES NOT come with the Option A plan.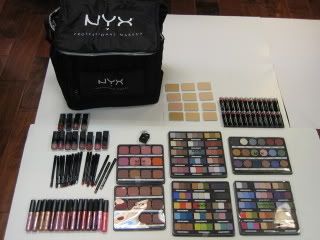 252 Comments »
Thank you so much for posting this information! Out of all of my websearches to find out more information about this program, your blog was the only extensive information that I could find! I really appreciate it! Hope that you are enjoying your kit & best of luck with your sales!

Comment by nyxsocialite | May 27, 2008 |

OMG! I am sooo joining option B! We have one retailer in all of Wisconsin and it is far from me. Thank you so much for this information. I was going to call and get info but sometimes there can be a big pressure to sign on but this is do-able!

Comment by Stella | June 1, 2008 |

I completely understand Stella! I joined NYX for that very same reason!

Comment by phantomgoddess | June 1, 2008 |

Great into… =) Thanks.

Comment by Nikki Rose Ty | July 1, 2008 |

I officialy became a rep for NYX cosmetics today, I got plan B. Do you have any suggestions and hows business for you?

Comment by Shelly | July 15, 2008 |

Congrats Shelly!! I really can't give you any advice on starting a business with NYX. I personally signed up because I wanted the starter kit and the 50% off discount. If you really wanted to start up a business there are resources on the internet that can help you

Comment by phantomgoddess | July 15, 2008 |

How do you sign up? I can't buy NYX anywhere where I live.

Comment by Adrienne | July 19, 2008 |

Hi Adrienne! Go to this website and email Ana, explaining to her that you are interested in learning more about being a NYX rep

http://nyxcosmetics.com/Main_Pages/cataloguesales.htm

Comment by phantomgoddess | July 19, 2008 |

Thanks for the link! How long did it take for them to respond? Is it a guarantee that you'll become a representive or do they make a selection in some other way? I'm dying to be a representive! I love NYX products but I can't stand dealing with Cherry Culture because they're always sold out on what i really want.

Comment by Adrienne | July 21, 2008 |

I'm not sure if it's a guarantee that you will become a rep, because you do have to fill out a form they email you. It only took her a day or so to respond to me. But she may take longer than that. In total, it only took between two to three weeks from emailing her the first time to getting my welcome package.

I also hate Cherry Culture – Besides I think they raised their prices on NYX

Comment by phantomgoddess | July 21, 2008 |

Well I really hope I get to be a representative. Yea, Cherry Culture did raise their prices, yet again >:( Thats why I haven't even bothered with them anymore.

Comment by Adrienne | July 22, 2008 |

Cherry Culture also has a really small selection of NYX to browse through. Which really stinks … I don't think you are going to have any problems with becoming a rep

Comment by phantomgoddess | July 22, 2008 |

YAY! I got my email yesterday for my application and i faxed it in because it wouldn't attach to my message. Hopefully everything goes through. I really like all the stuff they give but I'm sure it'll be easier to sell than mary kay or avon. They're so common! Plus NYX will give you more commision and you get all those testers. Thanks for all the information. You've been a great help.

Comment by Adrienne | July 23, 2008 |

No problem!! Honestly, the main reason why I signed up was to get the tester kit for $60 and 50% off everything else. The notion of selling NYX didn't even cross my mind. I don't think I'll ever sell in a huge way.

I just did it for myself

Comment by phantomgoddess | July 23, 2008 |

hey! after she sends and email and you email her back your application, how long did it take before she approved you? and what happened next, how did you do the payment? does she tell you to send your credit card number or something?

Comment by tanya | July 23, 2008 |

It only took a day or two for her to get back to me after sending my application in. She then called me a few days later to get my payment information for the package. And a few days after that, I had a huge box of NYX waiting for me at home!!

Comment by phantomgoddess | July 23, 2008 |

Ooh, hopefully she'll get to me today and then get my payment next week and then I should get my package by mid august at the latest. I'm so excited! I don't plan on selling too much to tons of people but I'll probably sell a little. I have plenty of NYX right now and I know so many people that loved them and I could sell to them. As soon as I saw the pictures you posted selling didn't come to mind either lol but now that i really think about it i wouldn't mind having a little extra cash.

Comment by Adrienne | July 24, 2008 |

I actually used to sell Avon a couple of years ago, and I despised it so much, that I quit after a couple of months. So when I came across this NYX thing, I made SURE that I would not be forced to sell anything, because selling can really be a bigger hassle than what it is worth.

Just my $.02. And you should get your package soon! I can't guarantee that it will be the exact same thing that I received though.

Comment by phantomgoddess | July 24, 2008 |

My sister used to try and sell avon but it was just for a week and she quit lol.

This is what they said I'll get:

*catalogues
*order forms
*representative card that authorizes you to sell NYX
*a goody bag for your self ($40.00 value)
*a caring tote
*Various cosmetic testers that are valued over $600.00. (see attachment)

And a picture of everything that you have. Hopefully i get it all. I definitely wouldn't get involved selling something that I HAD to sell. I almost got involved with Mark (avon's running mate) and thought better of it.

Comment by Adrienne | July 24, 2008 |

That is the same thing I got, I just didn't receive the NYX card, I think you get those on your first order.

Comment by phantomgoddess | July 24, 2008 |

i really hope she gets back to me soon about the payment stuff! im getting worried that i didnt make the cut! lol i sent in my application on tuesday and still nothing =[

Comment by tanya | July 25, 2008 |

I think it took me about a week to get approved. Don't worry, I'm sure you got it. If anything, you can call them on Monday, to find out.

Comment by phantomgoddess | July 25, 2008 |

thanks for that! =] have you tried their jumbo eyeshadow pencils? i only own one and i LOVE it, i wanna stock up if i get that 50% discount! that and the pigments look hotttttttt!

Comment by tanya | July 26, 2008 |

I've never tried those, although I have been wanting to try those and the lipstick pencils. Truthfully with the 50% discount, you really don't have to do any stocking up. Because you won't lose the discount.

I love the pigments, both the chrome eyeshadows and the little pigments in the jars. The name escapes for the moment.

Comment by phantomgoddess | July 26, 2008 |

The pearl pigments are the best! I just wish they had more colors to choose from. I got an email today that my application was going to be processed and that they will give me a call in a couple of days. I'm so excited. I can't wait

Comment by Adrienne | July 28, 2008 |

So i called NYX cosmetics asking about if they received my application and they transfered me over to Ana's line and while i was talking to her she said that the NYX people tried calling but i hadn't picked up or something. I never got a call from them though! anywho Ana said i did get accepted and i just gave her my credit card info there and yayayaa i should be getting it next week!! woohooo!

Comment by tanya | July 28, 2008 |

Adrienne, Tanya; I'm soo happy for you both! I'm glad you were able to sign up as NYX reps! I'm positive, you will love the testers, in fact I'm still playing with mine. It's literally the BEST deal on NYX makeup you will EVER come across!!

Let me know how you like the testers!

Comment by phantomgoddess | July 28, 2008 |

Just to give everyone a heads up, apparently they are changing the prices on some of the catalogues so there will be a delay in some of the shipments as of right now. I called ana and was just inquiring if everything went through. The actual offers for being a rep have not changed, just the prices, to match the new prices on nyx online. Now i just have to wait for them to call me back to post a payment.

Comment by Adrienne | July 29, 2008 |

oh thats so strange! they never mentioned that when i talked to ana! when did they change this?

Comment by tanya | July 29, 2008 |

Thanks for the heads up! I will need to get new catalogues now, which means a new order! LOL! I wonder if this has anything to do with Cherry Culture raising their prices.

But it almost doesn't matter to me, because I still get 50% off the new prices!

Comment by phantomgoddess | July 29, 2008 |

When I spoke with her yesterday, she mentioned that they were waiting for the new catalogues to come in so that they could mail me all the current information. Nothing else was changing, only the prices on the catalogues. I did see that they went up online so i'm guessing that they're needing to match up the prices.

Comment by Adrienne | July 30, 2008 |

Did she say what products were changing prices? I'm curious to know since I have the older catalogue.

Comment by phantomgoddess | July 30, 2008 |

She didn't tell me but she did use the trios as an example. She said they were 6.99 but now they're gonna be 7.99 and if you look online they're 8.00. I don't remember them being that high when i first saw the prices a couple of weeks ago. I guess you could look online and see if they're any other changes and compare them to your catalogue.

Comment by Adrienne | July 31, 2008 |

The prices in the catalogue are cheaper than what is listed on the website. For example, in my catalogue, the round lipsticks are $.99 and on the site they were $3. My discount is 50% off the catalogue price, not the website price.

So if the trios are going to be $6.99 in the book, then they should only cost $3.50 for you to buy one. This is why I am not worried about the increase in price very much.

Besides, I already have all the trios because of the testers. LOL.

Comment by phantomgoddess | July 31, 2008 |

LOL I know, that's why i wasn't worried. At first i thought she was talking about upping the price in the kit i got or that i was gonna get less items or less of a discount. I would've been really disapointed. but i don't mind the increase that much. Its no biggie with a permanent 50% discount

Comment by Adrienne | July 31, 2008 |

That 50% discount is going to be the death of me, I swear! LOL.

Comment by phantomgoddess | August 1, 2008 |

LOL Well, they got my payment today and she told me that it'll be 2-3 business days before they ship it out to me and that they'll give me a call to notify me when it does. Yay!

Comment by Adrienne | August 1, 2008 |

awe ana said they were suppose to ship them out yesterday! oh wellies, i just wanted them before i left to canada next thursday! but its k, ill come back and see loads of goodies on my front steps!! =] anywho, just wondering, what was in the goody bag they gave you thats suppose to be worth 40 dollars? =]

Comment by tanya | August 1, 2008 |

I honestly cannot remember what the gift was, I think it was one of the black label powders, an eyeliner, eyeshadow and one of the little cosmetic bags. However, I'm pretty sure that the gift probably changes.

Comment by phantomgoddess | August 2, 2008 |

I got a call yesterday saying that I should get my package friday or saturday.WOOOO!!! LOL

Comment by Adrienne | August 6, 2008 |

me tooo!! they called me on tuesday! im so excited! i just wish i could get the package tomorrow before i leave to canada =[ o wellies! atleast im getting it!! wooohoo!

Comment by tanya | August 7, 2008 |

Congrats to you both!!!! I'm still curious to see what the new prices are….

Comment by phantomgoddess | August 7, 2008 |

Don't worry, i'll try and give you a heads up

Comment by Adrienne | August 7, 2008 |

Oh, one quick question, does it come via usps or ups? I'd much rather have to sign to recieve it than just have it dropped off. I once lost a package due to usps and got lucky it was free.

Comment by Adrienne | August 7, 2008 |

man i was hoping it would magically show up today haha im just uber excited!!!!!!!

Comment by tanya | August 7, 2008 |

I think it was Fed Ex. It possibly could have been DHL, but I'm like 99.9% certain it was Fed Ex.

Comment by phantomgoddess | August 7, 2008 |

Good, because where i'm located, there are apartments that go by the name of the street were on and they always confuse the apartment numbers with the suite numbers. I lost a free edm package due to that but i didn't fret it too bad but i was pissed. I hope it comes today.

Comment by Adrienne | August 8, 2008 |

hey adrienne did your package come in today? i called my bro and he said i still didnt get it in =[

Comment by tanya | August 9, 2008 |

Nope, I was hoping it'd be in by yesterday because Rosemary told me I should get it in three to four business days on Tuesday. I spoke with Anna yesterday and asked her for the tracking number and she also went ahead and told me that I should get my package on the llth. I was really looking forward to using it this weekend and having some test and trials with everything but oh well. I guess Monday won't be such a bad day this week. I also found out that instead of it being mailed to my job they are mailing it to my house . Hopefully nobody goes through my stuff bc i have some nosy in laws lol.

Comment by Adrienne | August 9, 2008 |

I'm sorry you girls haven't gotten your NYX lovelies yet… . All I can tell you is that it is worth waiting for. The HUGE NYX professional bag that you get is like a cooler. It's even insulated!!! You can even turn it into a messenger bag! I think you both will like it a LOT!!

Comment by phantomgoddess | August 9, 2008 |

haha well considering im in canada, it doesnt really make a difference. but i just wanted my nyx stuff to be at my house and be safe lol i keep calling my brother and asking him if my package came in and to go to the door to see if it was dropped off. hahah but im still totally excited!

Comment by tanya | August 9, 2008 |

MY PACKAGE WAS JUST DELIVERED!! MY SISTER IN LAW TOLD! I HOPE SHE CAN BRING IT TO MY JOB. I WANT TO SEE IT SO BAD!!

Comment by Adrienne | August 11, 2008 |

That's great Adrienne!! I don't think you want it brought it to your job. The box is HUGE, literally, and it is just too much to lug around. Although it isn't extremely heavy. Still wait until you get home.

Comment by phantomgoddess | August 11, 2008 |

Yea your right but its 1:30 and i don't get home til 6:30, i'm literally bursting right now lol

Comment by Adrienne | August 11, 2008 |

LOL, that's why I didn't follow up on the shipment after I was told it was going to get mailed out. When I came home from work, it was sitting in my living room, unexpected. So I didn't have this agony. LOL.

Comment by phantomgoddess | August 11, 2008 |

Oh wow!! I just wanted to give you a heads up that i love the way your blog looks!!!

Comment by Adrienne | August 11, 2008 |

Thanks I have a new logo that I want to put up, so I needed something that looked good with it. I have to wait until I get home to finish it, because I can't get to my PSP to get it.

Comment by phantomgoddess | August 11, 2008 |

yayayya! i got my nyx package!!!!! too bad i have to wait till thursday to play with them! OH WELL ATLEAST I HAVE IT NOW! yayayayay ps. i LOVE your new layout!! =] thanks for all your help again!!

Comment by tanya | August 11, 2008 |

Thanks Tanya!! I'm glad you got your package in!! Just think, all those goodies waiting at home for you. It just gives you something to look forward too!

Comment by phantomgoddess | August 11, 2008 |

OMG the package is so freaking amazing!! I can't believe all the stuff they sent and I have to say, the Black Label Lipsticks are amazing!! I really didn't have to many big plans on selling but already my sister in laws want some stuff and some of my friends (i live with my in laws and they saw the book). They especially loved the fact that Maite models all the products as she's really popular in the hispanic industry. She's part of a group called Rebelde that are like tween/pop music. Thanks so much for all the information!!!

Oh before I forget, in the gift bag i got one Black Label powder compact in soft beige 08, concealer in a jar in light, and a single eye shadow in silver.

Comment by Adrienne | August 12, 2008 |

wow thats awesome!!! i told my friends about this also and they were really excited to check the products out! anywho hey adrienne, in the black label powder compact, is the pressed powder removable? just incase its not my color, can i just replace it with one of the tester powders?

phantomgoddess, so have you been playing with your nyx trios like crazy? you should do some looks and post them! i love your site by the way with all the reviews of the upcoming products! its one of my go-to places for makeup info! =]

Comment by tanya | August 12, 2008 |

I don't think its removable but then again i didn't really try to pop it out. I'm sure there's a way to do so. I think i was lucky because the color they sent me is actually a pretty good match for me . I try it out tonight and let you know if you can remove it.

Comment by Adrienne | August 12, 2008 |

I actually have been playing with the trios and they are sooooo soft in texture.There is an extremely good chance that you will never see me do a FOTD because I really don't to post my picture on the blog. I usually sit at my desk/ vanity and create looks, but I hate taking my picture / having my picture taken. Besides I like not having my face on my blog.

Adrienne – That was my free gift as well, now that you have mentioned yours.

Tanya – I'm really happy that you consider this one of your go to blogs. I hope you continue to enjoy coming here to read. I have quite a bit of posts that I hope to do in the near future.

I think I mentioned this before, but be VERY, VERY CAREFUL with the trios if you decide to depot them from the plastic palette they arrive in. They are EXTREMELY SOFT AND FRAGILE and strong double sided tape is used to hold the eyeshadow in. I am warning you in advance because when I was depotting mine, they cracked quite a bit. and one broke all together, even though I was being extremely gentle.

Comment by phantomgoddess | August 12, 2008 |

I know the trios have gotten a bad rep for not being as good as the singles but I've come to find that they're just as soft. The colors do vary (like kiwi in a trio and single) but they are still good and pretty much the same color and consistency. I did notice that the blushes are insanely soft as well so i have to be careful with those as well. What did you put them in P.G. when you depotted your eye shadows?

Comment by Adrienne | August 12, 2008 |

how is the black label powders by the way? do they give much coverage? i havent heard people really talk about it much. also, its like $25 bucks! so i guess it should be good? right?

Comment by tanya | August 12, 2008 |

Well, i tried it last night in not very good lighting and it looked good to me as i don't plan on using it except for when i have to go out and be a bit more made up. I did use the concealer and set it with the powder and that alone made my face perk up. I'm a big mineral fan as far as foundations go so i probably won't use this like crazy. I couldn't find anything on the internet as far as reviews for this, not even makeupalley!! I only found two reviews there, one who loved it and one who didn't. I'm gonna try the other shades this weekend and see how they look in daylight.

Comment by Adrienne | August 12, 2008 |

I put my eyeshadows in a tin cd holder. I cut up magnets with the sticky back into little pieces and stuck them to the back of the eyeshadows. If you guys can wait a day or so before depotting, I could probably post pictures of how my trios look depotted now. I'll have to take pictures of them tonight, and probably make a post of it tomorrow.

You can also use a regular cd holder, and I can post the tutorial on the site in a little while. You will still have to use magnets though.

I love the trios, I find them to be very pigmented and easily blendable. I don't see why so many people bitch about them.

About the Black Label compacts, I don't think they are all that wonderful, but I never really gave them a chance because I use MMU. You can search Makeup Alley for reviews. I'm sure plenty of girls have tried it!

Comment by phantomgoddess | August 12, 2008 |

Yea, i'm a huge mineral fan myself and won't use anything but. Although i have yet to find a foundation that makes me look how i want. I really want to try Urban Decays mineral foundation and they don't have much of a color choices but what they do have seems to be close to my skintones. I forgot about the cd trick! Thanks

Tanya, i checked the compact case and it seems that you could pop off the powder and fill it with other shades if its not a match. I mainly love it because i like how big the mirror is.

Comment by Adrienne | August 13, 2008 |

Two of my favorite foundies right now are Aubrey Nicole and Mad Minerals. Both companies are really great. I love Mad Minerals a little bit more though!

Comment by phantomgoddess | August 13, 2008 |

ooo mad minerals! i've never heard of that! ill def have to check it out!

Adrienne- the urban decay mineral foundation is AMAZING! i LOVE it!! it totally makes my face looks flawless and it lasts ALL day. I know the color choices aren't that great, but you should def check it out, or at least get a sample of it from sephora. i dont use the buffer spongy part of it. i just unscrew the cap and use my mac 187 brush to buff it on!

Comment by tanya | August 13, 2008 |

Mad Minerals is awesome!! They have some amazing prices and products. I love them. I plan on doing some reviews on Mad Minerals soon. So watch out for that!!

Comment by phantomgoddess | August 13, 2008 |

AHHH GUYS! I JUST GOT HOME AND SAW MY NYX BOX!! ITS HUGE!!!!!! i just ripped it open but i havent looked inside yet! haha i needed to tell you guys first!!! OKAY IM GONNA GO CHECK IT OUT! haha This is SOO exciting! haha

Comment by tanya | August 15, 2008 |

Dang it, I got the new list pricings for NYX yesterday. A lot of the cheap stuff went up and it seems that it matches a lot of the prices on NYX online. What really made me made is that I actually have some people wanting to look at it, i barely got the kit this week and already the prices are jacked up. It'll take effect on Sept 1st.

Comment by Adrienne | August 15, 2008 |

did they not include the new prices into the new catalog or did they send you a separate thing with the new prices? that really sucks! =[

Comment by tanya | August 15, 2008 |

The actual catalogue that i got had no prices in it but what they did is send me a sheet showing the how much each item is and how much i pay for them. I also spoke with ana today and she said i was lucky to get the package when i did because they are now 100 dollars!!! We got ours right on time!

Comment by Adrienne | August 15, 2008 |

wwowooww!!! are you serious!! 100 dollars!!! we are sooo LUCKY!!! hey is it just me or did you find little fingerprints on some of the blushes? i was looking at them and i found some finger prints…which is ew, so i have to wipe them all clean and sanitize before i use them!

Comment by tanya | August 15, 2008 |

I found only one finger print and that was on one eye shadow in one of the trios. I immediately wipe it clean lol. I think it was funny because when i spoke with ana today, i had asked her about getting all the single e/s testers (which are 6 bucks a pan which come up to 48 for all not including s/h and tax if your interested, i know i am) and she kind knew that most people became representatives for the discounts lol. She mentioned that i could either pay 800 for all singles or just get the testers if i wanted, kinda insinuating that i didn't plan on selling them. she was really cool though.

Comment by Adrienne | August 15, 2008 |

Wow, you girls have been busy today! LOL! That sucks about the prices though. I'll have to ask if I could have a sheet when I make an order.

I'm not surprised that the price of the kit went up to $100, it was insanely rediculus that cost $60 in the first place, even though I'm glad I got it at $60.

I really don't mind the price increase, as I said before, NYX is still cheap anyway for it's quality and we STILL 50% off of that….

Adrienne, on the sheet, we still get the 50% off right?

Comment by phantomgoddess | August 15, 2008 |

arent the single eyeshadows just the same ones as the one in the trios? i know when i compared online some had the same exact name? maybe the quality is different? i dont knwo ill get the tester pan for the single since i have ALL the trios now. i dont think i need THAT many eye shadows lol i might just use my 50% and get the ones that i dont have and that arent in the trios!

phantomgoddess-this is probably the only site that i actually comment on. even on specktra i rarely ever make a post! i just love it here! haha

Comment by tanya | August 15, 2008 |

LOL, awww Tanya, that is soo sweet of you to say that! That makes me all gushy inside . I believe with the trios and the singles, SOME of the colors with the same name are the same, but some of the colors with the same name are different colors.

Does that make sense?

Comment by phantomgoddess | August 15, 2008 |

haha yeah i know what you mean. im not sure if i should get them or not. do you think its worth it? i wonder if they'll increase the price of them later

Comment by tanya | August 15, 2008 |

Buying the pan of the singles seems like a good idea. I say go for it, as long as you were able to say which ones you wanted. Did Ana say how many eyeshadows are in a pan?

I may go for a pan or two myself. Much cheaper than purchasing them seperately and I'll end up depotting anyway.

Comment by phantomgoddess | August 15, 2008 |

oo that would be awesome if we got to choose which eyeshadow tester we wanted in the pans! then i would sooo go for it. i dont know if i want all of them, just because i feel like they might be too similar!

Comment by tanya | August 15, 2008 |

Well, we do still get the 50% discount which is good bc we technically now make a little bit more. I plan on getting all the pans and ordering them this friday just bc i really do plan on selling them (i've got two orders and made 40 bucks already!) I think it'll sell really well with the people i know as well. Plus, you can't go wrong for 48 bucks for all those singles! I paid more than that for 30!

Tanya, while the colors are similar from the trios to the singles the singles are more buttery imo, better than the trios but the trios have nothing wrong with them! I love them all and they are all rather pigmented (except for a couple here and there) in comparison with the singles. What i really love is how shimmery a lot of them are and how soft they feel. Plus, with udpp they all show up really well.

I'm also going to call today and find out about the tester for the lipsticks and the glosses as many people are asking me about those.

Comment by Adrienne | August 18, 2008 |

oooo yeah that actually does sound like a good idea! how many eye shadows would you be able to get with 48 dollars? also let me know about the lip gloss testers! oooo do you think they would let us purchase the jumbo eye shadow pencils for cheap? and the pigments? if you get ahold of them, would you mind asking them about those as well? =]]] thanks for the info!!

Comment by tanya | August 19, 2008 |

Well, crappy news, okay not crappy but oh well. We can only order more of the trios and single eyeshadows as testers. The rest we have to purchase on our own and demonstrate which still isn't bad because we get everything half off! I really love their black label lipsticks and mega lipglosses! Their pans for 48 dollars is all the single eyeshadows they have (YES ALL 160 OF THEM; I'M DEFINITELY BUYING THEM THIS WEEK) so it's a really good deal. I don't think many people will buy them now that they're 4.99 starting September 1st but just the fact that i'll have all their eye shadows will be so cool. The combinations are endless! And at 48.00 i just can't pass that deal up! That does not include tax and shipping and handling but that's okay.

Comment by Adrienne | August 19, 2008 |

Holy Crow!!!! $48 for 160 SINGLES!!!!!!!!! Shoot, I know what I'm ordering!! LOL!!!

Ohh, when you order A, can you let us know how much the shipping is? I've been wanting to order, but I've been waiting to get my money situation straightened out!

Comment by phantomgoddess | August 19, 2008 |

Oh and also i would go ahead and order some new books because the number pages have changed due to some new items. the only new one i see so far is the round lip gloss they now have.

Comment by Adrienne | August 19, 2008 |

Will do! Can you tell me what the rep prices are now for the round lipsticks, the megashine lipglosses, and the chrome eyeshadows?

Comment by phantomgoddess | August 19, 2008 |

wowza thats incredible! man i really shouldnt order them cause now i have so much makeup that i dont know how on earth ill be able to go through all of them. but then again, i really do like the texture of the singles soooooooo hey i might get them =] haha

Comment by tanya | August 19, 2008 |

ooo i forgot to ask, do you have to call ana to place the order on the single shadow rep pan?

Comment by tanya | August 19, 2008 |

Sure! The Round Lipsticks are now 1.75, the Megashine Lipgloss 2.50 and the Chrome e/s are 2.50.

Yep, you call Ana or Rosemary ext 229 to place the order. She'll take your card number and call you either in the same day or the following name to give the total of your order for it to be shipped. I placed an order today.

Comment by Adrienne | August 19, 2008 |

Yea sure! Tha chrome e/s are now 2.50, the round lipsticks are now 1.75 and the megashines are now 2.50. I'm going to try to post them on my photobucket so you guys can see them. I also want to try the new round lipglosses since we can get them for .75 cents. I've read on makeupalley that they smell like pinsol and that the stoppers suck on em but for that price I still want to try them out. They also have the new brush belt in the new book.

Tanya, you can call Ana or Rosemary (ext 229) to place the order. She'll get your card number and give you either the same day or the following day to let you know your total that will be shipped to the card information you gave them.

Comment by Adrienne | August 19, 2008 |

Crap! I didn't mean to post twice but I kept refreshing the page and it wounldnt show my comment and kept giving some error code. Sorry guys lol!

Comment by Adrienne | August 19, 2008 |

haha yayay i just called and placed my order, im waiting on rosemary to call me back now with the total! =] man adrienne im going to go broke because of you! hahaha jk the 160 eyeshadow seems like a dream! i wonder how long itll take them to send it =]] haha

Comment by tanya | August 19, 2008 |

I know, I'm an enable LOL

Comment by Adrienne | August 19, 2008 |

I know! I'm an enabler LOL!

Comment by Adrienne | August 19, 2008 |

such an enabler!! =] haha i wanna order those pigments next! but i have tons of mac pigment samples that i dont know if ill need the nyx ones. depends if theyre good or not! =]

Comment by tanya | August 19, 2008 |

I have ordered more and i have ten right now. I think that their really good for beauty on a budget and from what i hear easier to work with than mac pigments. But mac pigments are better because they can be used for so much more than just eye shadows, which is really the only thing nyx is good for. I think you try to play with the nyx pigments in other forms but for fifty cents, you really can't go wrong to try them out. They come in a small jar with a even smaller opening (i use a nyx smudge brush to dip my brush in) but the product is really compact in there. Plus, another reason why mac pigments are a little better is that they have way more color choices. Overall, I think they are both good buys. It just depends on how often you plan on using it.

Comment by Adrienne | August 20, 2008 |

I love my NYX pigments. I actually purchase empty 10g sifter jars and I dump the pigments into those. I highly suggest you do that instead of using the piggies out of their original jars.

Comment by phantomgoddess | August 20, 2008 |

oo what a good idea! hey adrienne, did rosemary call you back with the total amount plus shipping? she said she'd call me back but still hasnt done so….

Comment by tanya | August 20, 2008 |

Call Rosemary back Tanya.

Comment by phantomgoddess | August 20, 2008 |

haha i feel like i bother her too much thats why i refrained from calling her to bug her about payment. lol i think they're annoyed of me haha

Comment by tanya | August 20, 2008 |

They aren't annoyed by you, you want to give them moolah, they will ALWAYS want you to contact them. LOL.

Comment by phantomgoddess | August 20, 2008 |

She still hasn't called me back so I have plans on calling her today. Sometimes I feel bad for calling them so much but if they want to make money they'll take my calls lol. Plus i've sent in 3 orders and i've already got 3 more going out monday in which i'll be ordering the singles and some books as well. Its actually pretty cool to sell.

Comment by Adrienne | August 21, 2008 |

Damn, Adrienne you have really taken NYX to heart. LOL, did you ever get the NYX Rep card?

Comment by phantomgoddess | August 21, 2008 |

Oh I'm falling in love with the stuff HARD!! I really didn't plan on selling but where i live you can't find NYX anywhere. everyone i've shown the book to wants to place an order. I asked Rosemary about the card and she said i should actually get my card next week.

Before this i wanted to sell Mark cosmetics but i started getting irritated with their quality. They have nice stuff but for the same price i can sell nyx which is better imo. I think the reason many people are getting it is because it's something new. Its not avon, mary kay or jafra all over again. Plus, those companies aren't going to give me 50 percent off lol!

Comment by Adrienne | August 21, 2008 |

Yet another update lol. I called rosemary and they should give me a call back today before 3 pacific time to comfirm my payment. I also asked about the new books and I asked when could I get one. She was surprised I didn't already have one and said she'd send out a ups order today with one new book for free and if I want another one I could order them next time. She was really cool about it.

Comment by Adrienne | August 21, 2008 |

Thanks for all the updates dear Did the new prices for the reps go in yet? Or did they start on Sept 1st? I'm slightly confused. I want to order but I want to have everything figured out in my mind before I order…

Comment by phantomgoddess | August 21, 2008 |

All the new prices will take effect on September 1st. Almost everything went up a little bit whether it be .25, .50 or a couple items (like 3 or 4) went up by about 3 dollars! The round lipsticks (without the rep discount) that were .99 are now 3.99, the trios are now 7.99, the cheapo liquid liners and mascaras that were 1.99 are now 4.99, the single e/s are now 4.99, the loose pearls are now 2.00 so; these are the ones that stick out in my head the most because i had just ordered them.

Comment by Adrienne | August 22, 2008 |

Good, so I can still order products with the old rep price. Awesome!

Comment by phantomgoddess | August 22, 2008 |

man so i called rosemary yesterday about giving me the total amount of the single eyeshadow pans and i said that she never called back. she said oops and that she'd call me back later that day..but once again she still hasn't called. blahh

Comment by tanya | August 22, 2008 |

Yea, they're very "forgetful" lol. I called her yesterday about my total and she said it and told me it would be shipped out the same day. I didn't see it taken out of my account this morning so she calls me back today to collect my payment so I'm sure for a fact it'll be sent out by today but once again I forgot to get a tracking number! The amount has already been taken from my account. I really doubt I'll get my free book as well unless i order one but it'll be a big surprise if i do get it.

Comment by Adrienne | August 22, 2008 |

I called Rosemary a few times today to ask a couple of questions, and I kept getting her voice mail…. I think we need to cut her a break, because it seems to me that she is the only one handling the Reps and that has GOT to be a hard job, thanks to me! LOL!

Comment by phantomgoddess | August 22, 2008 |

Lol I know! I called ana and she always just forwards me to rosemary. I've found the best time to call her is between 4 and 7 eastern time. She's always bright and cheerful.

Comment by Adrienne | August 22, 2008 |

hey guys! i found a video on youtube with some nyx rep showing swatches and what nots on hte nyx stuff. she just ordered the pan with the single eye shadows so this is how it looks!

Comment by tanya | August 22, 2008 |

Thanks Tanya, this video helped me decide to get the single testers. Those things are about the same size as the retail versions!!

God, have I mentioned that I LOVE being a NYX Rep?? MAC? What is MAC? LMAO!

Comment by phantomgoddess | August 23, 2008 |

haha man, after i got the rep kit, i think im gonna steer clear from for a good while. i have every color imaginable in eye shadows! who needs mac right now? lol btw i love the meebo thing you added!

Comment by tanya | August 23, 2008 |

What a cool video! I wasn't sure whether to buy some more kashuk brushes or order the whole set of eye shadow since i have so many. I'm definitely placing an order for the eyeshadows. They look like they're the same size as the blush pans. I'm definitely gonna depot those!

Comment by Adrienne | August 23, 2008 |

Man, I a was debating whether to buy the pans or buy some new brushes by sonia kashuk but after seeing that video i'm definitely buying the eyeshdows!

Comment by Adrienne | August 23, 2008 |

AARGH!!! Everytime i post it a comment it says i've double posted and i refresh like ten times and it doesn't show my comment! So then i post the same thing again and then it goes through so sorry for all the double posting.

Comment by Adrienne | August 23, 2008 |

Don't worry about it Adrienne. Word Press sucks donkey balls.

Comment by phantomgoddess | August 23, 2008 |

hey guys!! has this page always been on the nyx website?

http://www.nyxcosmetics.com/0808_starterkit/index.htm

they have the price of the medium traincase for 125! so hopefully the LARGE traincase wont exceed 150 then we can get it for 75!! which is really good!!! hahaa

Comment by tanya | August 24, 2008 |

I'm looking at this kit, and I still think that we reps got the best deal! LOL!

Comment by phantomgoddess | August 24, 2008 |

Whoa, that is a nice starter kit but i agree we get the better deal plus we get half off!

Comment by Adrienne | August 25, 2008 |

Hey ladies, I just ordered the Rep kit (yes i had to pay 99$..instead of the 60$ I was told..bummer but im still really excited) and I just wanted to say that this page is by far the best thing I have read about being a Rep because i have been trying to find some more info/tips and tricks about being a rep. just really wanted to say that i so appreciate all this info you have all been chatting about! My kit should be here wednesday and I cannot wait!!!

Comment by Melissa | August 25, 2008 |

yepppp!! man so i have to call rosemary again cause she has YET to call me about payment. hey adrienne have you gotten your package yet?

Comment by tanya | August 25, 2008 |

OHHHH so i just called rosemary and she did call me, she called my HOME line when i told them in the beginning that my primary number is my cell number! dude the total was 60 dollars! thats how much we paid for our rep kit! but i guess i understand since it was 48 for the pans and then 12 dollars for the shipping&handling so it all makes sense!

Comment by tanya | August 25, 2008 |

$60 for 160 shadows is NOT BAD AT ALL. Don't forget some people drop that amount purchasing items from MAC Collection!! LOL.

Comment by phantomgoddess | August 25, 2008 |

Hi Melissa!!! Welcome to the group! LOL! One of the reasons I've let this commenting go on for soooo long is because there is a LOT of information on this page, not only in the post itself but in the comments as well.

My ultimate goal is to build the best and most complete resource for NYX on the web. However I cannot take all the credit, Adrienne and Tanya have even taught me a thing or too! LOL. Thanks girls

Comment by phantomgoddess | August 25, 2008 |

Im learning so much, and I had originally just thought that I would buy this kit because it was so cheap for the amount of makeup you get and I wasnt really going to sell, but when I really sat down and thought about it I figured it would be easy to sell because it is an amazing product and it is kind of hard to get your hands on! Especially since I have family in Canada who havent even heard of the company!

I did notice that with Rosemary it seems like she never really calls back, which drove me crazy when I was waiting to hear about when the kit would be shipped. I just found it easier to go and call her back myself. So it sucks that you ladies are saying that she is still kind of forgetful..urgh! haha! This is the only page that I have personally found with all the info I feel like I need!! makes me feel a bit better about spending the 100$ on the kit!

Comment by Melissa | August 25, 2008 |

The price of the kit is still really a good deal. If I remember I'll update this post with right information. That way when I copy it to the new site, I'll have it right!

Comment by phantomgoddess | August 25, 2008 |

Tanya, did you say you're from Canada? I haven't gotten my package yet but I think I should get it by this week as they usually ship it out the same they take your payment. I stupidly forgot to get a tracking number! I figured it would take about 2 weeks to complete all orders and recieve them. 60 bucks still isnt that bad. I actually thought that's how much it would run me if I ordered them as when you think about it 8 pans is alot of eye shadows lol!

Hi Melissa! If you have any questions just let us know. We're learning as well lol.

Comment by Adrienne | August 25, 2008 |

hey Melissa!! just wait till you see the rep kit! its amazing!!! also, you should think about getting the single eyeshadow pans, i feel like after sept 1, they must up the price on the single eyeshadow pans as well. im not 100% sure, but its better to be on the safe side! dontcha think? =]
Adrienne- im from Alabama actually lol i just went to canada alot this summer for my cousins wedding! im super excited about the single eyeshadows! i seriously dont think ill buy ANY makeup for suchhhhh a long time! i dont think i even need anymore MAC eyeshadows (gasp!) haha i loveeeee nyxxxx! and im SOOOOO loving the lipglosses! they feel soo smooth!! =]

Comment by tanya | August 25, 2008 |

i meant to say "they MIGHT up the price on the single eyeshadow pans" * lol

Comment by tanya | August 25, 2008 |

They probably will up the price… But still, it would cost $800 USD to purchase every single eyeshadow, all 160. And that is not including the price of tax and shipping….

So think about that!

Comment by phantomgoddess | August 25, 2008 |

Yea I definatly want to order those single eyeshadow pans, after reading everything that you all have written it makes me want them even more! I cannot wait for everything to come in, apparently the tracking number is telling me that it will be here tomorrow, but who knows.I just cannot wait to play with it all and just fiddle with it! I will be going to Canada on Friday so I will be brining it all with me and showing it to my friends and family up there because they havent even heard of it! Do you all know how much everything will be going up in price? I dont know what kind of inside scoop ya'll have. This rep discount is gonna kill me though, i think its SO awesome that they give you 50% off, definatly more incentive for us to buy from them! And that is exactly what I would be doing. Do we get the 50% off of everything that NYX sells or is it on certain items only? Everyone cross your fingers that I get this kit tomorrow!! haha! Gosh im so excited! At first I thought I was the only one who got all giddy and excited but I see that Im definatly not the only one!

Comment by Melissa | August 25, 2008 |

The discount is permanent and it is on EVERYTHING that NYX sells. You get 50% off the price in the catalog that comes with your kit.

Comment by phantomgoddess | August 25, 2008 |

haha true true about 800 usd. but still id rather get em while its cheap-ER!!! itll make my wallet alot happier! so melissa, order them while you still can! sept 1 is nearing!!

Comment by tanya | August 25, 2008 |

Yes, Melissa, order while you still can. I'm sitting here right now putting together one big order that will be paid for by two different cards. LOL.

Hey girls, can check out my latest post? I need some feedback.

Comment by phantomgoddess | August 26, 2008 |

just checked out the recent post! go for the forum =] me likes the idea! =] hehe

Comment by tanya | August 26, 2008 |

Once this kit gets here I will be checking it out and then checking out my money situation so I can figure out what i need to add to my kit! Seems like this is the slowest shipping process everrrr! Even though it hasnt even been a week, but feels like forever! Guess its because its coming from California and going alllll the way over the Maryland. Oh I got a question! Have any of you ever received anything broken when ordering?

Comment by Melissa | August 26, 2008 |

If you girls dont mind me asking, how old are all of you? Well,since its so early, and I had to be up at 5am when my husband left for work (yey for the military life) I guess Im gonna go check out the NYX website..I really want one of those train cases cuz they are SO pretty! And everything looks good when theres 50% off!! haha!

Comment by Melissa | August 26, 2008 |

Tanya: The day after I recieved the list with the new prices, I actually called Ana and asked her about the pans as well and asked her if they were going to go up after Sept 1 as well. She said "That's a good question. I need to find out because others are going to be asking as well." She said that she doubts it'll go up. I still don't know for a fact though. I went ahead and ordered just to be safe. I definitely won't be buying makeup from any other brand anytime soon and I definitely won't buy any eyeshadows in the near future! Right now, I'm focusing on buying brushes. Plus, like PG said, with the 50% off, I don't have to worry about stocking up.

PG: I love that idea! I will gladly contribute

Melissa: I'm 20

Comment by Adrienne | August 26, 2008 |

You know I wonder sometimes why there arent ALOT of nyx reps out there. Like if the youtube gurus knew that you could get THAT much makeup for like 100 bucks i bet all of them would easily do it! I sometimes feel special that not alot of people have it but then again I do want more people to have the rep kit cause seriously, it makes me happy! =] haha i sound dorky i know!
Melissa!- Heyy i'm 21 lol
Also, i should have got the tracking number!! I seriously feel bad if i call rosemary again, do you think if i called Ana she would give me the tracking number? Hey Adrienne, do you know Ana's extension?

Comment by tanya | August 26, 2008 |

There is 1 youtube guru that recently bought the nyx rep kit, which is how i found out about it. Barstowmama, she did a video about it and showed everything that she got, so after I saw the video and she said it was only 60$ thats when I was like "wow okay i gotta get that!" lol. Im sure after that video many more people have been calling.
Have you guys ever ordered the makeup and any of it come broken?

Comment by Melissa | August 26, 2008 |

Melissa: nothing from the rep kit came broken or damaged at all and I'm still waiting on my first order that should be in this week. I do know that if the damage is on their part they'll send you another one and may request the old one as well.

Tanya: I have seen some gurus who have the rep kit and when asked how to become one, they won't say how! I guess they don't want to tell everyone. I post dailey at makeuptalk and a new girl there got the kit and made a post about it but only one person was actually asking about it. I guess it all depends on big of a fan you are on nyx. Ana should be able to give you the tracking number as well, her ext is 221

Comment by Adrienne | August 26, 2008 |

Yeah the youtube gurus are kinda weird when people ask them how to become a nyx rep. I'm guessing its because they wanna sell the stuff and if they tell them how to get it all it wont benefit them at all!
Adrienne-Who's the new person on makeuptalk that showed her kit?

Comment by tanya | August 26, 2008 |

Tanya: Well, she mentioned that she got the kit and some of the makeup she got. I believe her name is Fataliya. Mines Adrienne on there as well

I called Ana and she gave me the tracking number and I should get my stuff by Thursday YAY! I placed the order on the 19th so I guess that waiting 9 days, aproximately 7 business days isn't really that bad at all! I'm just really anxious to get my order lol.

Comment by Adrienne | August 26, 2008 |

good lord! i just called rosemary for the tracking number and she said she left a msg for me on my answering machine yesterday saying that my card was declined! i was like…hmmm it cant be declined cause i used it today. so i asked her to tell me my card number and she totally didnt put in the right credit card number! awe nuts, so not shes putting in the order today and she "says" she'll call me later today to let me know the tracking number. =[ boooooo

Comment by tanya | August 26, 2008 |

Aww, i'm sorry that happened to you!

Comment by Adrienne | August 26, 2008 |

eh its okay! you'll have to let me know how you like them when you get them on thursday! btw i added you as a buddy on makeuptalk! lol

Comment by tanya | August 26, 2008 |

I go to the mall today and look at all the posting you guys have done!! LOL. I'm soo proud!!

Melissa, I'm 23

Tanya, that seriously sucks about your card. At least it was straightened out!

You guys can add me on MUT. I used to be one of the mods on the site earlier this year, but I quit in order to spend more time working on this blog. You can find me under "PhantomGoddess."

I can't believe these "gurus" are refusing to talk about becoming a Rep. That is just completely uncool. What jerks. LOL. At least you guys have me .

I'm actually working on the forum now, and I'll have it up and running tonight or tomorrow. I don't want to wait for the new site to be done.

You guys are keeping me busy!!

Comment by phantomgoddess | August 26, 2008 |

Thank god we've got you PG! LOL, I never would've gotten it if it were not for your help. I'll check mut and add you guys as well

Comment by Adrienne | August 26, 2008 |

Seriously! PG, if it weren't for you i'd be NYX-less! You are by far the most helpful person on the net, unlike those youtube gurus who wont tell you jack!

Comment by tanya | August 26, 2008 |

YEY!! the package will be here tomorrowwww!! Im so excited! Because everytime I read this page it makes me even more jealous!! Is Rosemary the only one that deals with the Reps? because after reading these posts it seems like she can be quite forgetful, even when i was trying to sign up it was like she never called me back it was always me calling her back because i was so anxious to get the process started!

Comment by Melissa | August 26, 2008 |

LOL Melissa! I think I've created a monster in you!! Welcome to the NYX side my dear.

Just to let you gals know, the forum is up! Head on over there!

http://pgbeautyobsessions.freeforums.org/

Comment by phantomgoddess | August 26, 2008 |

just as i suspected, rosemary never called back to give me my tracking number.

Comment by tanya | August 26, 2008 |

Cool PG! Registered

yea Tanya, I plan on calling Rosemary today to see if the order I placed on Monday has already ready. I don't mind tracking her down bc she does eventually answer the phone but I've found that it's better to call them than wait for their call.

Melissa, I used to deal with Ana but I could literally never get ahold of her and she recommended that if i call Rosemary if i had to place an order because she was much easier to get ahold of. Plus, another guru on youtube told me that it's better to deal with Rosemary and thats who she places orders with.

Comment by Adrienne | August 27, 2008 |

You poor girls! I will be dealing with Rosemary shortly, when I make my order. I'm doing two of them, the testers on one card and everything else on the other! LOL!

Comment by phantomgoddess | August 27, 2008 |

I never waited for Rosemary to call me back because it seemed to never happen,so i guess i kind of took it in my own hands and called her myself, and it clearly worked out well for me. i did feel bad always calling her,but,its her job so alls well. lol! Which guru have you been speaking to on youtube. Ive been talkin to a girl with the username "barstowmama"..shes been helpful but just starting out so she doesnt have all the answers like you girls seem to have! haha! do u girls sell the makeup too or purely just buy the makeup for your own personal use? Also im debating on whether to depot the trios and what not..have any of you done that,and if so, hows it working out for you?!

Comment by Melissa | August 27, 2008 |

I've spoken with KarlaKay and she does really well. She's the one who told me about the tester pans for the singles. I definitely plan on depotting those for myself but I'll probably still keep the trios in the tester pans since i do plan on trying to sell a little bit. I really didn't intend on selling but I know so many people who actually are interested so I figured why not lol.

If you do depot the trios, like PG has done, like she said, you have to be insanely careful because they will crack easily! She has a post on here showing how hers look.

Comment by Adrienne | August 27, 2008 |

I like the way you are gonna do the single eyeshadows depotted for yourself and leaving the trios, i think i will do it that way as well because I too do plan on selling a little bit but mostly using it for my own personal use! I hate knowing that the ups guy is gonna drop off the kit today! I keep thinkin I hear a truck here!! Are the mascaras any good? Anyone use those more than once or twice,because i know my mom is lookin for a good mascara but i dont wanna suggest this to her if its no good. Any opinions?

Comment by Melissa | August 27, 2008 |

I've had a friend who used both of them and she loved them. I have yet to try them myself though.

Comment by Adrienne | August 27, 2008 |

I just got the package in the mail!! So happy! Unfortunatly 2 of the eyeshadows and 1 blush was shattered..oh well thoughhh..just my luck! Oh well im still thrilled!!

Comment by Melissa | August 27, 2008 |

Melissa, check out this post: http://pgbeauty.wordpress.com/2008/08/12/my-palettes-for-the-nyx-trios/
This is how I depotted my trios. For now, all of the NYX that I purchased is for my own personal use. I really don't know enough people to sell these items too.

Besides, I had a really bad experience with Avon, so I'm a little weary of selling cosmetics right now. LOL

Also, read this comment: http://pgbeauty.wordpress.com/2008/05/18/information-on-being-a-nyx-representative/#comment-316
it will explain to you how I depotted my trios.

Comment by phantomgoddess | August 27, 2008 |

thanks for those links! I think I might just try it because now looking at the palette that it comes in, it is SO flimsy and i dont like that at all, and i feel like i gotta be extra careful just so that the palette doesnt bend and break. lol. Im sure I am being more paranoid than I need to be but better safe than sorry! Im just scared that once i depot them that it will look like junk..and I dont want that either..even though your depotting looks really nice and those cases are so pretty!! Im gonna have to hunt to find a pretty case! Im excited to show my husband! He is gonna wanna rip his ears off his head once he gets home..lol!

Comment by Melissa | August 27, 2008 |

Melissa, try popping the plastic palettes into the oven for a minute or two, to warm it up. I know that buy warming it, it will make the plastic and the glue easier to deal with. The heat shouldn't hurt the shadow itself, because I've seen many people depot eyeshadows with oven heat before. I've even done it with Milani eyeshadows.
I suggest you use a low heat and place the plastic on cookie sheet that is covered with tinfoil. It will help with the clean up. When I depotted my eyeshadows with out heat, it was difficult and many of them had pieces break off.

Comment by phantomgoddess | August 27, 2008 |

Thanks so much, I'm going to try that because i dont want to break any more eyeshadows! Im going shopping tomorrow to see if I can find anything to put the depotted shadows in. I like the metal tins,but no idea where I'd find them..Claires didnt have any because I check about 2 weeks ago when I was depotting my random shadows. The search will continue!

Comment by Melissa | August 27, 2008 |

I actually have another post you would be interested in Melissa. It's a tutorial by Enkore…

http://pgbeauty.wordpress.com/2008/08/12/enkore-tv-creating-a-cd-eyeshdow-palette/

Comment by phantomgoddess | August 27, 2008 |

Hey thanks again! Ive seen that video and I think Im gonna try to do something like what you did because i want a metal tin just because I think that is prettier.I gotta figure something out because these shadows in the flimsy plastic pan drives me nuts lol! I just am worried that it is going to look ugly! haha! These eyeshadow trios are amazing, ive never tried them out before but they work really well even without a base! I couldnt be happier!!

Comment by Melissa | August 27, 2008 |

I'm glad you like the shadows! Those tins are actually gift card holders and the ones I got are from Christmas last year. They come out with a wide variety of them during the Holiday sales. I'm sure you can find them at other stores as well. So if you can, just hold tight for right now and wait and see if they are released again in a month or two.

Comment by phantomgoddess | August 27, 2008 |

Yea they are really pretty which I like so if I cant find anything thats simular and but just as pretty than I will pick them up, but if I can't find anything then I guess the best bet would be to wait because I love the look of the tins you got! Im surprised at how closely some of these nyx colors match up to the MAC shadows..I am so glad I never went and bought MAC since it seems like these NYX Shadows are excellent dupes. \

Have any of you used any of the brushes from NYX? I heard from one girl on youtube that she wasnt in love with them but other than that I havent heard much else…any of you have the brushes?

Comment by Melissa | August 28, 2008 |

I haven't tried the NYX brushes but boy oh boy i sure want to! And with the rep discount i can sure afford too! (well not at the moment considering i just ordered the shadow pans) lol man i really really hope my rosemary got my order, im gonna call her tomorrow to make sure there was no mistake….AGAIN! lol im not bitter i promise, im just anxious! i really want those shadows now hahaha. im such an impatient person!

Comment by tanya | August 28, 2008 |

I want to try those brushes out too even more now because of the rep discount! I heard they shed wayy too much but I still want some, gotta given them a try myself! I want a really good flat top brush, but she said hers shed like crazy and that it wasnt dense enough..sad news but knowing me Im still gonna order it and see for myself. Im loving this 50% off discount, I already have a list made of things I want to order.Does anyone know if the single pan testers are going up in price?I remember reading that they were 48$..atleast thats what i think i remember,lol. Are the testers going up as well?

Comment by Melissa | August 28, 2008 |

I'm not sure if the testers were going up but i did ask. Ana only said she didn't think they were but i never found out for a fact. I'm assuming they will just because everything else is going up as well.

About the brushes, I have 5 of them. In the grey handles I have the contour, shadow 1, smudge and angle liner. In the black handle I have the eyebrow/lash comb and they eye shadow #1. The only one that I absolutely love is the smudge one. It's soft and insanely tiny. Its the only brush i own that fits in the NYX Loose Pearls Eye Shadows! The liner one is pretty good too and small. The eye shadow and contour are really just okay. Not bad for what you'll pay for them at half off. I didn't like them because they weren't soft. The britles themselves were actually quite dry feeling and although they haven't shed on me so far, I don't think I've used them enough to test the shedding. I much prefer my EoB/Posh or Kashuk brushes. Their my favorites as far as d/s brushes go.

Comment by Adrienne | August 28, 2008 |

I love my EoB brushes, i think they are great..ive been debating on the nyx brushes but i really think i will pass. With the nyx pearl pigments i took those and put them into small jars i got from Michaels just because i couldnt stand that tiny jat they come in. Even though they are so cute!But I do love those pigments!! and those jars make it look like such little product but they really are packed full! Its been 4 months that I've had them and I still have so much left! I'm gonna assume that the testers will go up purely because of everything else going up in price.

Comment by Melissa | August 28, 2008 |

Yea the only reason i didn't transfer the loose e/s is because I really don't have more room in any of my traincases and I'm trying to avoid buying another one. I'm holding off untill I see the measurements of the new NYX stand up traincase with the mirror. I want it so bad!

Comment by Adrienne | August 28, 2008 |

I should go and check out those new cases because the 2 that 2 that I do have are too small now with all the makeup that I have now! Im interest in seeing how much they are too! How long ago did you get the nyx kit, how did you hear about it?!

Comment by Melissa | August 28, 2008 |

wow that large traincase is amazing!! I love it! I wonder when it is going to be available and how much! you dont happen to know anything do you?

Comment by Melissa | August 28, 2008 |

haha even with a forum we still like to chat it up on here! anywho, hey check out the forum real quick, i was wondering if any of yall tried a cosmetic company called FaceFront Cosmetics! I wrote about it in the forum under Mineral makeup! =]

Comment by tanya | August 28, 2008 |

No prices yet but I do plan on getting it if the price is right.

Comment by Adrienne | August 28, 2008 |

yayay so i got my tracking number! It's suppose to arrive on tuesday!! im sooo excited hahaha

Comment by tanya | August 28, 2008 |

I called Rosemary about 30 minutes ago and she said that she would give me a call today. I'm sure she will as i inquired about inventory and she mentioned that right now they're cramming all the orders so they get shipped out asap. I really want to find out when i'll get mine so i know when to take my half day off next week. I think I'd rather get off early so i have the rest of the day to play with my stuff lol

Comment by Adrienne | August 28, 2008 |

Aww, mine won't get here until the 4th

Comment by Adrienne | August 29, 2008 |

At least you know when you will get your stuff Adrienne!

Comment by phantomgoddess | August 30, 2008 |

man i wish tuesday would come sooner!!! i want my shadows =[[[ lol

Comment by tanya | August 31, 2008 |

LOL! You guys are soo impatient!

Comment by phantomgoddess | August 31, 2008 |

yaayayaya i got my package!!!!!!!! =]]]]]]]]]]]]

Comment by tanya | September 2, 2008 |

the testers are soooo tiny! theyre just a tad bit smaller then the single eyeshadows that are packaged separately. but still they look soooo beautiful!!!

Comment by tanya | September 2, 2008 |

OMG you have got to post some pictures on your haul!! I can't believe i have to wait until thurday! Are they the same consistency as the singles?

Comment by Adrienne | September 2, 2008 |

eh i feel like the actual singles are more buttery then the ones in the tester package. like i compared the silver that i have in the single to the silver in the single tester pan, and it wasnt as buttery as the single that i own. but its VERY close! ill post the pics on the forum!

Comment by tanya | September 2, 2008 |

It still sounds like the tester eyeshadows are worth it. I really don't care about butteriness as much as I do about pigment.

Comment by phantomgoddess | September 2, 2008 |

Ok i have a few questions. I went through much of the process of becoming a rep. Let me start by saying that i first emailed on august 1. Along the way i was given incorrect information, had emails not replied to, and never recieved "the call" that they kept saying that i would get. Finally rosemary sent me the "credit card application" but i dont think i feel very comfortable sending my credit card info over email. I was SO excited about all but now i dont know if I should go through with it since there have been so many glitches along the way. Any insight, suggestions, or thoughts?

Comment by Sam | September 18, 2008 |

Tomorrow, give rosemary a call and work this out over the phone. She will help you through the process. I'm sorry you've had a bad experience so far. When I was trying to set up my rep account, the first time, it was a failure. But the second time was successful.

So call her back, and don't feel weird about giving the card number. We've all done it, and it was fine.

Comment by phantomgoddess | September 18, 2008 |

Can you believe I just got my rep card?! I posted a thread in the forum

Comment by Adrienne | September 30, 2008 |

I haven't gotten mine yet

Comment by phantomgoddess | September 30, 2008 |

I kept asking about it over and over again, with my last order I got last week it came in.

Comment by Adrienne | October 2, 2008 |

Mine hasn't even come in yet.

Comment by phantomgoddess | October 2, 2008 |

Hi Ladies! I just wanted to say thank you to all of you! If it wasn't for this page, I would not have taken the leap for this opportunity. I started the process by e-mailing Rosemary on Oct. 1, but of course, I was inpatient, so I called her to have her e-mail me the app. Finally, today the payment was taken out of my account. I hope it comes very soon! Wish me luck and thank you ladies, again!

Comment by Jala | October 3, 2008 |

isnt it SO exciting?!?!!! I am still thrilled! Waiting for it, knowing that its in the mail,coming to your house, thats the worst part! It seems to take forever! LOL! Enjoy it when you get!

Comment by CoastiesWife2 | October 6, 2008 |

So how much payment do we have to pay them for option B? and is there a minimum order require? thanks!

Comment by Ann | October 14, 2008 |

Option B is $100, and there is no minimum order.

Comment by phantomgoddess | October 14, 2008 |

Thank you so much phantomgoddess! People like you help us women who need a real testimonials about products and I just want to personally thank you for doing this I cannot wait to be a NYX Representative! I will give her a call to day hopefully I get the help I need. Thanks again! A lot of kudos for you! lol

Comment by Ann | October 14, 2008 |

Oh my God! I just talk to monica and everything happen in less than 10 minutes!! lol I am so happy I found your site!! She will call me tomorrow to confirm my package!! Yay! Im so excited!!! I cannot wait!!! Phantomgoddess you are the best!

Comment by Ann | October 14, 2008 |

I got my package today!!! I waited less than a day. lol I am hysterically happy about all the products that they include in it. Honestly, Im not even a lipstick person but when I saw the collection it totally change my mind! thanks again for thi wonderful site.

Comment by Ann | October 16, 2008 |

Congrats Ann! I'm glad you were able to get your package with no problems!! Enjoy it!

Comment by phantomgoddess | October 16, 2008 |

I just got my NYX Sales Rep package today! I made a youtube! My motto is sell sell sell now! The colors are much more attractive than that of Mary Kay and Mark.

Comment by Rinny Riot | October 18, 2008 |

sorry i've been lurking the majority of the time. I promise to be wayyyy more active!

Did anyone else get the Maite Perroni autograph with their kit?

Comment by Rinny Riot | October 18, 2008 |

I'm glad you got your package. When I personally signed up, it was really never my intention to sell the products. I just wanted the discount and the ability to order the brand easily.

Comment by phantomgoddess | October 18, 2008 |

hello girls. i was just wondering if anyone could help me with tracking the nyx rep kit? she gave me my customer id and i tried frinding the tracking option or box in the nyx website but i could not find it. i was just wondering if anybody knew?? thanks

Comment by stephyjelly | October 27, 2008 |

You need to get a tracking number from someone at NYX and then track the package through the correct carrier.

Comment by phantomgoddess | October 27, 2008 |

the lady at nyx told me my tracking number is my userid..

Comment by stephyjelly | October 27, 2008 |

That's odd. Well, your package should be delivered by UPS, so it shouldn't take too long for it to arrive. You could always ask what carrier is carrying it and go from there.

Comment by phantomgoddess | October 28, 2008 |

Okay I have a question I am hoping someone can answer. I was approved to be a rep on the 31st, and pretty much all i did was call and give them my credit card number to order my kit. They didn't ask for my shipping address or anything. I'm assuming they just use your credit card billing address or something. It just seemed so fast and abrupt no one really explained anything to me. I wasn't offered a choice of packages. Is this typical?
I also had a question regarding the discount. Is that given to you when you order online or something like that? Do they give you some sort of discount code? AM I GOING TO BE GETTING ANY SORT OF INSTRUCTIONS??? Haha!
Anyways thanks!

Comment by Kristen | November 2, 2008 |

You will really have to call them and talk to one of the people in charge of the reps to get answers for your questions about the kit. That's not the way my order was handled, but it may have changed. When you order from NYX as a rep you talk directly to the company and you can tell them directly what you want over the phone. Your discount is added by them. If you have a large order, make arrangements to email or fax them your order.

This may have changed. But this is how I put in an order at the beginning of Sept.

Comment by phantomgoddess | November 5, 2008 |

Can you believe they changed it again?! I got a letter in the mail stating from now on if we place an order it has to be a minimum of 40.00 with our discount. And that doesn't include shipping fees which from my last order have dramatically gone up. I guess I'll just have to wait and see what I really want for later one. I'm still having fun with my 160 e/s and trios lol

Comment by Adrienne | November 11, 2008 |

What is the shipping now? My last order was like $10 for shipping.

Comment by phantomgoddess | November 12, 2008 |

The minimum order thing doesn't bother me. I normally order more than that anyway.

Comment by phantomgoddess | November 12, 2008 |

I don't know what the shipping is but last time I order, the items weighed one lb, cost only 4 dollars in total, and they charged me about 11 dollars shipping! The only reason I hate the minimum order is bc alot of the people I sell to order about 20 dollars worth (which is ten for us) about once a week. I don't mind bundling up my orders but people get paid on different days and I like to make it easier for them.

Comment by Adrienne | November 14, 2008 |

I checked my last order which I made on 09/09 and it was 4lb and cost about $10 to ship. I hope this hasn't changed.

Comment by phantomgoddess | November 14, 2008 |

how do you get a sales permil cause i dont want to pay for taxes lol..

Comment by Kristy | December 7, 2008 |

You will have to research that. It's dependent on your own state.

Comment by phantomgoddess | December 8, 2008 |

I just got my nyx rep kit today! The only thing that I noticed is that it didn't come with an official nyx rep card. I emailed a person named rosemary and she sent me an email that said the kit would come with an official nyx rep card. I was just wondering if you guys recieved one?

Comment by Daniela | December 15, 2008 |

I don't have one. But it doesnt really matter. You don't need one to make orders.

Comment by phantomgoddess | December 15, 2008 |

Well rosemary e-mailed me back and said that It was on its way and I recieved it the next day I got the e-mail. I became a rep and got my package in the matter of days!!! I guess its cuz I live so close to the company. I live like five hrs away. So how are the sales going for you guys? Do u guys charge shipping and taxes to your clients? I used to but then I revieved complaints from clients saying that I should pay the shipping since I'm selling it. They also didn't want to pay taxes. So what I do now is just up the pricing on everything. Usually its a dollar on everything and that makes up for the shipping and taxes.

Comment by Daniela | December 22, 2008 |

Omg today I just found out that I recieved the wrong pricelist!! Rosemary said that I would get the testers of liquid makeup for $3.50 since my discount price was $7.00 but in my price list it says that the liquid makeup is at $5.00 and I told her that. she then emailed me saying that I might have the wrong price list!!! and I already sold products to people with the price of the wrong pricelist!!! and it looks like it is a big difference it is two dollars!! I hope there is not a big difference in price for everything else.

Comment by sugarplump | December 22, 2008 |

i just called today and ordered my nyx package.. super excited.. can anyone tell me if the prices on the website is the same as the ones on the catalog? i want to start organizing some sales ahead of time…

Comment by Sweetz | January 12, 2009 |

how old do you have to be to become a nyx representative?

Comment by Stephanie | January 22, 2009 |

I'm not sure, but I would go with 18 just to be safe.

Comment by phantomgoddess | January 22, 2009 |

Thank you so much for this info!! We do not have any NYX products around my area…People come to me all the time about my makeup and my products and I have sold many on different products I use…this should be a snap for me!

Comment by Kerri | February 5, 2009 |

Hi I really need help!
I really want to be a sales rep for nyx, i live in texas! and i am 18 with a ginormous passion for makeup and giving women a new light! is there any advice you could give me? it would be really appreciated!

Comment by rae | February 12, 2009 |

Read through my posts in the NYX Category – there is more than enough information for you in there. Read the comments as well. The comments are a treasure chest of knowledge as well.

Comment by phantomgoddess | February 12, 2009 |

who do i have to contact tobecome an nyx rep.. i wouldlove to become 1

Comment by kisha | February 13, 2009 |

http://www.nyxcosmetics.com/Main_Pages/cataloguesales.htm

Comment by phantomgoddess | February 14, 2009 |

thank you phantom .. i followed the steps and they called me and said i was approved but they didnt ask me for anything such as my credit card to pay for the kit.. so how long does this process take.. im so excited

Comment by kisha | February 15, 2009 |

Give it a few days. Sometimes you have to contact them to get information like that. There are only a few people who deal with the reps.

Comment by phantomgoddess | February 15, 2009 |

yyaaayyyyyy… MY KIT IS FINALLY ON ITS WAY I SHOULD BE GETTING IT ON TUESDAY… I ALREADY TOOK THE DAY OFF FROM WORK SO I CAN PLAY AND DO SOME VIDEO'S….LOL… YOU GUYS COME JOIN ME ON MY YOU TUBE PAGE….. http://www.youtube.com/user/malhonette….THANY YOU GUYSFOR ALL YOUR HELP…

Comment by kisha | February 20, 2009 |

Is it better to email them or to call them? Because I have emailed Jeanette? and she has not replied. I don't want to sound pushy by calling because I emailed her last night.

Comment by Diana | March 24, 2009 |

Call them. It's easier that way.

Comment by phantomgoddess | March 24, 2009 |

OMG! I want the kit TODAY, can I buy it now? How do I get it and can you send it to me in Germany? OMG!

Comment by LaShawna Glass-Davis | April 2, 2009 |

Sorry – the NYX Rep program is only available in the U.S. and possibly Canada.

Comment by phantomgoddess | April 2, 2009 |

Just spoke the rep, waiting for a call back. Does anyone know what the price of the small kit is now?

Comment by EdenSalon | April 3, 2009 |

I'm only aware of the package that costs $100.

Comment by phantomgoddess | April 3, 2009 |

I just tried the link on NYX website today and they said that they wont accept any more application …Does any one know any thing about this? Would anyone who is a rep can get me some of the single eyeshadow pan? I want them so bad but there's no way I can find NYX here in my state

Comment by meomeo | April 21, 2009 |

I don't know anything about it honestly.

Comment by phantomgoddess | April 22, 2009 |

Hi Meomeo,

Where you able to get the products you needed? If not email me at contact@makeupbydeandtra.com and lets see what I can do to help you. I am a Sales Rep for NYX located in California.

Comment by SunniD | July 29, 2009 |

What is their policy to withdraw from being a rep?

Comment by tokyoracer28 | May 6, 2009 |

hey are they taken any more application.Thanks for the information.

Comment by latoya | June 4, 2009 |

No.

Comment by phantomgoddess | June 4, 2009 |

Thanks for the quick reply do you know if this is permanet or not because I only found out about nyx have a rep program until yesterday and I was like I want to do this because it's better than Avon rep program.thanks for the reply in advance

Comment by Latoya | June 6, 2009 |

I have some updated info on the NYX Catalog Sales Program. The company is not taking any new applications right now because the program is being taken over by Power Media Group. There is a new site, http://www.nyxcosmeticscatalog.com, which I'm assuming is going to be the site for sales reps. However I'm not loving it because the product selection sucks! I think they are still in the process of changing things over so we'll have to wait and see. In the meantime you can still call 1.323.869.9420, the NYX Catalog sales department for info. You can also email Patricia Garcia, Head of Power Media Group at patricia@powermediagroup.com.
If you get anywhere with this please let me know what you find out at sunnid81@gmail.com. Thanx Dolls!

Comment by SunniD | July 29, 2009 |