Drugstore Delights: Details Bath & Body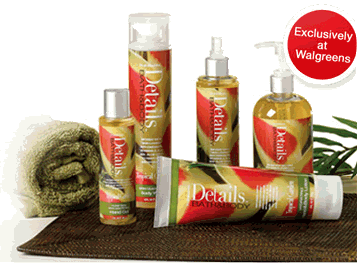 While browsing Walgreens recently, I have come across A relatively new bath and body line called Details. This is a full bath and body line, that includes:
Body Wash
Body Mist
Hand & Body Lotion
Hand Wash
Anti Bacterial Hand Gel
This collection comes in six different scents, all of them quite yummie and very rich:
Slice of Life - Tangy citrus infused with skin-loving antioxidants
Summer Shower – A hydrating blend of sweet pea, freesia, and wildflowers
Tropical Garden – Sensuous Tahitian vanilla helps replenish skin
Sweet Surrender – Tread yourself to fresh pomegranate and plumeria
Island Cottage – Enrich your skin with blooming gardenias
Country Meadows - A moisturizing bouquet of lavender and mountain lilies
Admittedly, this line is quite smaller than Bodycology (another recent drugstore B&B line) in terms of offerings and scents, but it is definitely worth looking into if you want a cheaper, but still wonderful alternative to Bath & Body Works.
Details B&B is sold exclusively through Walgreens and Walgreens.Com. Everything in the collection is either $5.99 or 2/$10. Right now through the end of June, there is a $1 off coupon of 2 products at the beauty counter at Walgreens.
So grab yourself a coupon and enjoy some new B&B goodies!
No comments yet.