Alice Cosmetics
It seems like new mineral makeup companies pop up almost daily, so it can be a bit daunting when you are looking for a new company to try out. Well, today I'm bringing you a company that is worthy of being on your short list of companies to try.
I'm talking about Alice Cosmetics, which is a small, but worthwhile company that is run by the sweet and kind Patty Gray. When I first went to the site, the black and green layout really jumped out at me and it really reminded me of Elphaba from Wicked. Strange I know, but the colors are very Wicked
. Which is a good thing in my opinion because Elphaba is very earthy and I think that she would get a kick out of seeing Alice Cosmetics. LOL.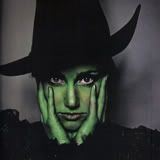 Anyway, Alice Cosmetics carries an almost complete line of cosmetics, the only thing missing would be lippies, lip glosses and lip sticks. However, this is normal for new mineral makeup companies. So don't hold this against Alice Cosmetics.
However, what Alice offers far exceeds what it is missing. Alice has offers the following
12 Foundation Shades
25 Different Eyeshadows
5 Eyeliners
6 Blushes / 3 Bronzers
Mineral Mascara
….Plus a whole lot more!!
The samples I received came in a super cute green draw string baggie with a hand written message on the business card. The samples came in little square jars with black circle lids. Patty, went above and beyond with the samples, when she included a sample just because.
It's always a nice surprise to get something unexpected. The samples sizes are very generous, they look to me to be about 1/4th tsp, which is a size that isn't offered that much anymore. While many companies are downsizing their samples making it hard to actually use the product more than once, Alice sticks by the old standard of giving enough product to actually try!
I plan on using these products over the next few days, and I hope to give you a very thorough review of each product, especially on the eyeshadows, which are always a favorite product of mine.
So while we wait for my reviews, head on over to Alice Cosmetics and check out what they offer! Their prices are affordable – they are on par with other major mineral makeup brands such as Mad Minerals and Aubrey Nicole. The site is also quite easy to navigate, on the home page, all the links are on the top of the page, but when you get into the store itself, the categories are broken down into separate links on the left side of the page.
Enjoy!!
No comments yet.