New York Color: Metro Metals Fall '08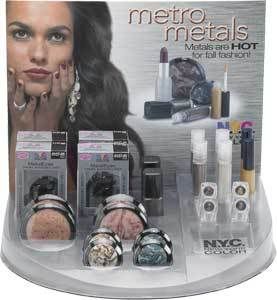 Budget Beauty Brand New York Color has released it's long awaited fall collection, Metro Metals. I say that collection was long awaited because there has been quite a buzz about the nailpolish and the possible dupes of MAC's legendary MSFs. I have actually already hauled most of this collection a few weeks ago, but I was waiting for it to be released onto the New York Color website, before I really got into it. And I check out the site today and low and behold, Metro Metals is up!
So enjoy the pictures and descriptions from the site: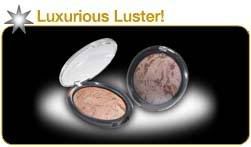 CHROMA FACE GLOW is a richly pigmented metallic powder that glides on with a velvety smooth finish and luminous, modern glow. Sweep over face for instant polished radiance… or add shimmering highlights to cheeks & brows!
• Sunstone • Moonstone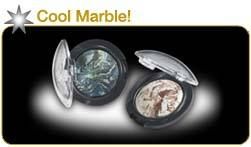 MARBLEYES PRESSED EYESHADOW lights up your lids with shimmering, multi-dimensional metallic color. A swirl of marbleized pigments creates breathtaking effects! Use each shade solo or blend for custom color.
• Tiger's Eye • Aquamarine
METALEYES CREME SHADOW/LINER is a creamy eye color + eye liner in one. Goes on like a creme, dries to a silky powder, delivers an intense metallic finish. Applicator brush included for seamless application!
• Onyx • Topaz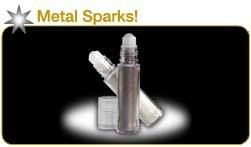 SPARKLERS LOOSE EYE POWDER brightens eyes with brilliant color + instant shine. Rich metallic powder is super-blendable and long-lasting. Use a little for a subtle wash of color; use a lot for intense, dramatic sparkle!
• Amethyst • City Citrine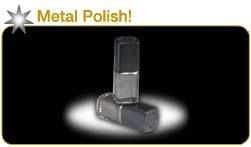 METALLIC NAIL GLOSSIES pour on brilliant vinyl shine + shimmering metallic sheen! Pro-Vitamin B5 formula conditions and pampers nails. A rich, glossy look gives manicures and pedicures a dream gleam!
• Molten Metal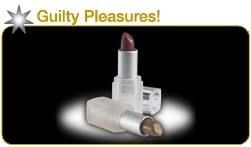 CHROMA LIP WEAR is smooth, luscious lipcolor that glides on like silk and shimmers with lustrous metallic shine. Deeply moisturizes for soft, kissable lips!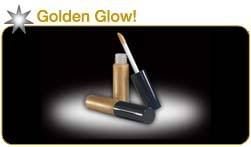 CHROMA LIP GLOSS lights up your smile with a golden, glossy shine that looks luscious on bare lips or over your favorite N.Y.C. lip color!
I will hopefully be doing reviews of both of the face lust4ers, the two eyeshadows, the two lipsticks, the gloss and the nail polish. I didn't buy the creme liners or the glitter because they didn't seem too appealing. So be on the look out for those reviews coming up sometime in the future
No comments yet.