Review: Aveda Vintage Clove Shampoo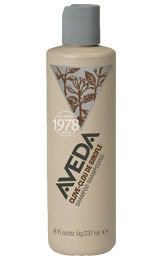 When I received my Aveda Dry Recovery System to test and review, this was also in the package. I have to admit, after using this product for the past few weeks, I must say that I am not impressed with this product. The texture of this shampoo is quite similar to drugstore shampoos, and it reminded me of the Pantene Pro V Brunette shampoo. However unlike the Pantene shampoo, which smelled like fake chocolate this one had quite a lovely clove scent to it.
When I applied this shampoo to my hair, it lathered pretty well in my hair, and I was able to wash my hair to my satisfaction pretty easily. I definitely felt that this shampoo cleaned my hair well, and it felt nice and soft afterwards. Even though this stuff is quite nice, I don't think it's worth the Aveda price point. A small bottle of this shampoo is $10 and a larger bottle is $27. I prefer not to spend that type of money on my hair care, especially when I can get my Aussie for $3.
Product: 2.5/5
Available: Aveda.Com and Aveda Salons
Price: $10 for 8 fl oz / $26.50  33.8 fl oz
You can get more reviews of this product and others on TotalBeauty.com
No comments yet.