Review: Maybelline Mineral Power Liquid Foundation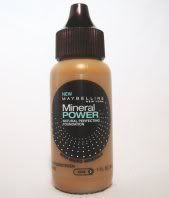 I have been using this foundation for a few months now, and I am almost through with my first bottle. I started wearing this foundation because I wanted a liquid foundation that didn't break my skin out, but I didn't want to spend top dollar on something from Sephora or the MAC counter. So when CVS had a too good to pass up promotion on this foundation – I jumped on the chance to try it out. I lucked out on my color choice – 4 Nude was the first color I purchased, and fortunately it matched my skin perfectly. I have light-medium neutral skin, which is around 25 NC in MAC.
This liquid foundation is everything I could want right now in a foundie. It applies evenly over my skin, I dab it on with my Sonia Kashuk skunk brush (187 dupe) and I apply a light layer that gives me light coverage. The foundation can be built up to medium coverage with no caking. I always use my Monistat Anti Chafing Gel as my primer before using this product. So I never have to deal with break outs from this product. I highly recommend that you check this product out the next time you are looking for a decent and cheap liquid foundation. I'm sure you can mix this foundation in with your moisturizer for a great tinted moisturizer. The other good thing about this foundation is that it comes with 18 SPF. Which is always a good thing.
Product: 5/5
Price: $8.99-$9.99
Available: Anywhere Maybelline is sold.
3 Comments »
I have the exact foundation I am using now. I reckon this foundation make your skin look oily ! it looks good at first and then at the end of the day ur skin just looks too shiny and oily, I'd recommend MACs studio fix foundation for oily skins.

Comment by GinaMcracks | September 4, 2009 |

Actually my skin looks fine in this foundation. I breakout with MAC foundations. You really need to practice your grammar. It was difficult to read your comment.

Comment by phantomgoddess | September 5, 2009 |