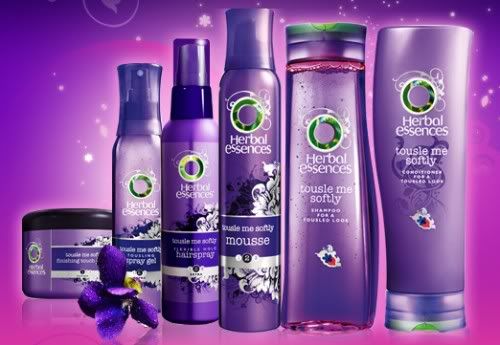 Name: Herbal Essences Tousle Me Softly Shampoo & Conditioner
Product: 4/5
Price: $2.99 each
Available: Anywhere Herbal Essences is sold
I received the complete Herbal Essences Tousle Me Softly from Total Beauty to test out and review. I was almost out of Shampoo and Conditioner when I got these, so I started testing out the Shampoo and Conditioner that very night. I am not someone who likes using styling products in my hair, so I have yet to try any of the other products I received.
I have been using the shampoo and conditioner on and off for the past few weeks, and I quite enjoy the products for what they are. Shampoo and conditioner doesn't actually have anything to do with how tousled your hair eventually ends up. That is where the styling products come in at. The purpose of the shampoo and conditioner is to clean the hair and prep it for the styling, and these do it well. My hair didn't dry out or feel oily after using the products. My hair wasn't all that moisturized, which is usually something I look for in shampoo and conditioner, but these products never made the claim to be moisturizing, so I can't really count this as a negative.
I think these are a good buy if you are looking for a new shampoo and conditioner to try. There are definitely better products available in this price range that does give more moisture, such as Aussie Opposites Attract Protect and Soften. However, if you are lucky enough to score these on sale, then I definitely recommend that you pick up a bottle or two and  give it a whirl.
You can get more views on Herbal Essences Tousle Me Softly Products on Total Beauty.com