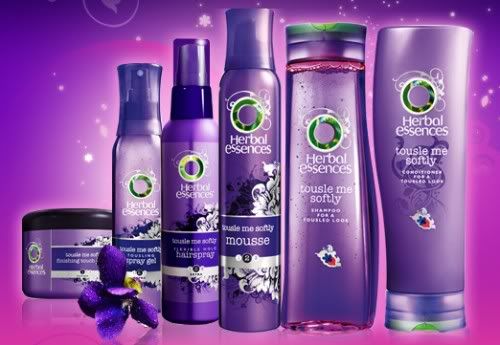 Name: Herbal Essences Tousle Me Softly Collection
Price: $2.99- 5.49 each
Available: Anywhere Herbal Essences is available
Here is the rest of the Tousle Me Softly collection. Earlier this week I wrote up a positive review on the Shampoo and Conditioner from this collection. Today I am going to do mini reviews for the rest of the products.
Tousle Me Softly Mousse: I tried this both in my hair and in my aunt's hair, and the result was the same. Disappointing. This product is extremely light weight in both texture and hold. My hair is really thick and straight, and my aunt has really fine hair that is quite thin. This product had no hold in either of our hair. Worthless
Product 1/5
Tousle Me Softly Hair Spray: This product is a lot better than the Mousse. I never use hairspray, but I tried this one for review purposes. This is quite nice, it doesn't leave my hair smelling of alcohol – like other hair sprays. It holds my hair in place, and doesn't turn it into a crunchy, hard mess. This also works equally well in my aunt's hair as well.
Product: 4/5
Tousle Me Softly Spray Gel: This does the job that a spray gel is supposed to do. This has a pretty decent hold and it leaves the wet look that is trendy right now. I personally don't like that look however, but that is just my personal taste. This is allows for hair to be textured, and it will actually hold the hair in place. Just not something I'll ever use.
Product: 4/5
Tousle Me Softly: Finishing Cream: This is the only other product other than the Shampoo and the Conditioner that I actually like. This comes in a tub and it for smoothing out the frizzies. Since I live in a high humidty area, this is very nice to have. This can be used in both wet and dry hair. It helps keep my, and my aunt's hair smooth and frizz free. My aunt's hair is worse than mine when it comes to frizziness, so it works really well. This is not a substitution for a deep conditioning treatment.
Product: 5/5
You can get more reviews on these products and more at Total Beauty….