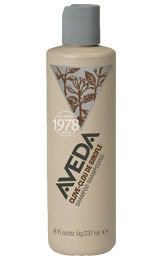 When I received my Aveda Dry Recovery System to test and review, this was also in the package. I have to admit, after using this product for the past few weeks, I must say that I am not impressed with this product. The texture of this shampoo is quite similar to drugstore shampoos, and it reminded me of the Pantene Pro V Brunette shampoo. However unlike the Pantene shampoo, which smelled like fake chocolate this one had quite a lovely clove scent to it.
When I applied this shampoo to my hair, it lathered pretty well in my hair, and I was able to wash my hair to my satisfaction pretty easily. I definitely felt that this shampoo cleaned my hair well, and it felt nice and soft afterwards. Even though this stuff is quite nice, I don't think it's worth the Aveda price point. A small bottle of this shampoo is $10 and a larger bottle is $27. I prefer not to spend that type of money on my hair care, especially when I can get my Aussie for $3.
Product: 2.5/5
Available: Aveda.Com and Aveda Salons
Price: $10 for 8 fl oz / $26.50  33.8 fl oz
You can get more reviews of this product and others on TotalBeauty.com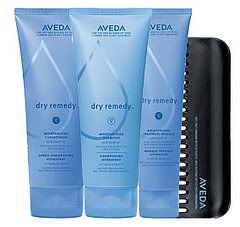 Name: Dry Recovery Shampoo Conditioner & Moisturizing Treatment Masque
Product: 5/5
Price: $24 per product
Available: Aveda Salons & Aveda Website
Repurchase: No
I recently received these Aveda products to test and review. Since I have been going through my hair care stage, I jumped on the chance to use a truly high end hair care system and compare it to my cheapy system that has been working with my hair. Because I use these products at the same time, I just decided to write one long review on all three products instead of writing three different ones. So here we go!
OVERVIEW OF EACH PRODUCT
Shampoo: I was surprised when I first opened this product. Unlike most shampoos I've used over the years, this one was thicker and denser than I'm used too. I was also taken back by the scent of this product, it is a floral scent, that brings up images of health food stores and organic flowers. Which is a good thing because many of the main ingredients of this product are certified organic. When I worked this shampoo into my hair, it didn't foam up like most shampoos. I did feel like it cleaned my hair well, it didn't feel weighed down after I rinsed it out. When I was testing this out, I tried just washing my hair with this, without following it up with my conditioner. I wanted to see if this product was as moisturizing as it claimed to be on its own. I was pleasantly surprised to discover that my hair was really soft after using only this, however it was quite frizzy. This is usually normal for me after I wash my hair, it normally doesn't settle down until the second day after washing it. But it seemed that my hair was frizzier than normal when I used just this product.
Conditioner: I have always used this product with my Aveda Dry Recovery Shampoo – so I can't really say how this works on its own. However when I use this with the shampoo, my hair is not only extremely soft and shiny, but the frizziness that I usually have to deal with, is very subdued. This conditioner has an extremely thick texture – it reminds me of toothpaste actually. The scent is extremely similar to the shampoo, which makes my shower smell very organic-y when I use these. Like the shampoo, this product has many organic ingredients in it, which is a major plus for many people – I personally don't put this at the top of my priority list. There really isn't much to say about this conditioner, it does it's job very well, and if you use it over a long period of time, you will really see it change your hair.
Moisturizing Treatment Masque: I recently only got into using deep treatments on my hair. Before using this treatment, I was using and loving the Pantene Pro V Fortifying Fortifier, which I have recently reviewed here. I like this treatment a lot, it's thicker than the Dry Recovery Conditioner it also shares the same scent as the other products in this line. I find it to be very good for weekly treatments, I wouldn't recommend that you use this twice a week like I did with my Pantene treatment. I leave this stuff in my hair for a few minutes while I wash and shave my legs, I usually find this to be enough time for this product to work. When I was applying this to my hair, I found this stuff easy to spread into my hair, even though it's extremely thick. I feel that it sinks deeply into my hair, and rinses out without any problems. I have used this product with other shampoo and conditioners and I find that it works equally well with cheaper brands as well as the matching Aveda products. This definitely does the job if you need the extra shot of moisture.
Final Thoughts: I love this system. It works the way its supposed too, which is a very good thing considering that to purchase all three of these items would run you close to $100 for all three. I however would not purchase this in the future, because even though these infused my hair with wonderful moisture, I get the same results with my Aussie Opposites Attract combo and my Pantene treatment. My Aussie combo and the Pantene treatment runs me about $10-11 for all together which is MUCH BETTER than the $100 for the Aveda. If you are someone on a budget who wants soft, moisturized hair, then I highly suggest you grab the Aussie along with deep treatment of your choice, there are many good ones out there on the drugstore market. But if you are someone who prefers higher end hair care and wants organic products, then by all means check out the Aveda collection. You won't be disappointed.