This is somewhat of a continuation of my previous post on products that I've loved that I haven't found a comparable lower priced item to. This post is all about the products that have a cult following, that actually HAVE lower end comparables, that I have personally used and loved. I haven't used all of the higher end products, but I have tested them on several occasions that I feel I have a good idea of how well they work for me, anyway.
Eyeshadows – This is a biggie. I am torn on this one, because I'm in love with MAC's Mineralized Eyeshadows, but I feel that there are many eyeshadows out there that are just as good, or even better than MAC and other Higher End shadows for a lower price:
Ben Nye Eyeshadows – These range from about $6-10, and are available from costume shops, and speciality online stores.  These are almost twice as big as MAC and Urban Decay shadows, and are pigmented like no one's business. I use my Ben Nye shadows more than my more expensive ones.
Wet N Wild Ultimate Expressions Palettes. These palettes have 8 huge colors, and are extremely pigmented. I own 6 of these palettes, both permanent and limited edition. The eyeshadows are soft and extremely blendable. These palettes have mostly neutral colors that are wonderful!
NYX Shadows – NYX has many different types of shadows, and the vast majority of them are wonderful, they are pigmented, and dirt cheap. The price of these range from $1-6, depending on what you pick up. I've tried them all, and I have loved almost all of them.
L'Oreal HiP Eyeshadows Duos – These are simply some of the best drugstore eyeshadows that you will easily find in the drugstore. Each duo has two cordinating colors that are simply amazing, and some can be considered as dupes to higher end colors. These often go on sale BOGO Free, so it's well worth your time to pick some up. You can easily get four huge, pigmented colors for the same price as one MAC shadow during a BOGO Free sale.
L'Oreal Wear Infinite Singles – I recently tried my first eyeshadow from L'Oreal – apart from the HiP line, and I was flabbergasted when I used it. It is extremely soft and pigmented, and it blended like dream on my skin. I am looking forward to trying more in the future. I haven't tried the quads though. So those maybe different.
Milani – Milani makes some amazing eyeshadows. The ones that are very comparable to MAC and other brands were their little regular singles. These were amazing smooth and more pigmented than you can imagine. Unfortunatley Milani decided to get rid of these, but they are still available in some places. I've seen them in select Walgreens. These cost around $3-4 and were totally worth the money. Another good choice from Milani are the quads, they for about $6-7 and have four huge colors with tons of pigment and are really soft. These are available everywhere.
TKB Trading Pigments – These are pure pigments of color, that you buy from TKB Trading for $1.50 per sample. Samples are a full table spoon of pigment – this is about the same amount of product that you get in a full sized MAC jar filled. These are definitely worth your time to check out for cheap, but not cheap quality pigments.
So far, these are the shadows I've used that are comparable to higher end products. These may not be as smooth as higher end shadows, or they may be slightly more sheer, but the money that you save is worth it. I feel that the price difference and more than decent quality makes these shadows the better choice than the higher end ones.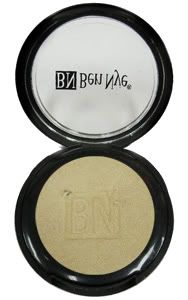 This is my first foray into the world of theatrical makeup. I have been curious about Ben Nye for quite a while now, and I was excited to receive this eyeshadow through a generous swap. This eyeshadow is a versatile light gold color that could be used in a variety of ways. It is extremely pigmented – one swipe of the brush gives you true to pot color. So far, I have used this eyeshadow as an all over color wash, browbone highlighter and face highlighter, with my skunk brush.
The shadow applies easily and is non chalky. It's very blendable and it has the potential to make some incredible looks. This is the color that would work with all skintones and colors. It mixes into your skin and leaves a beautiful gold sheen to it. The going price for these eyeshadows are around $9.00 a piece. This is an absolute steal, because the size, pigmentation and versatility of this color makes it a must have in anyone's stash.
Product: 5/5
Price: $9.00
Available: Anywhere Ben Nye is sold
When I was still in college, I lived extremely to a theatre / costume shop that sold Ben Nye, La Femme and other theatrical makeup brands that many beauty bloggers are in love with right now. I, being a dumbass then did NOT pay any attention to those brands that were sitting literally right underneath my finger tips.
Now that I am no longer living anywhere near a costume shop, the only thing I can think about now is how much I want to try the La Femme and Ben Nye brands. While feeling like the idiot I am for not the goldmine I had just sitting before me for two freakin' years. So now I am left drooling over all these beautiful swatches that are popping up everywhere on line, and I can't do anything! **SOB** Anyway I plan on ordering some Ben Nye and La Femme from MakeupMania.com. They have some amazing prices, I just don't know anything about their tax / shipping policies.
For those of you who do not know about these two brands, there are several videos on the internet, especially youtube that demonstrate all the wonderous things about these brands. Here are some links to blogs that have gone gaga over these products:
For swatches and pictures galore of the Ben Nye 12 eyeshadow palette that retails for around $45 head on over to PurseBuzz
For info on La Femme, especially the loose powders, some of which are perfect dupes for MAC pigments, check out this you tube video: