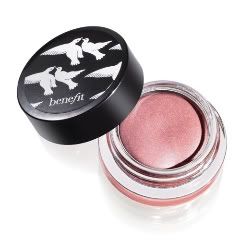 Name: Creaseless Cream Shadow in Pre-Nup
Product: 0/5
Price: $14.25-$19.00
Available: Sephora, Benefit Counters
Lately, I've been all about cream shadows, always looking for the best base that will give me long wearing, non creasing eyeshadow. So far there are only three things that do not crease on me, two I've reviewed, and another one that I haven't yet. Those are MAC Paint Pots, UDPP, and L'Oreal HiP Color Rich Cream Crayons. I was hoping that this would be one I could add to my list, but unfortunately, that was a no go.
The texture of the Creaseless Cream Shadows are very similar to Maybeline's Dream Mousse products, they are very soft and easily spreadable. I found these to be much softer than the MAC Paint Pots and oilier as well.  I applied Pre Nup which is a warm pinky color to my naked lids around 2pm, and when I got off work at 7pm, it had faded, and creased terribly. Some people would use these with UDPP to stop creasing, but for me, the point of these type of shadows is to not need UDPP as a base. That pretty much ruins the product for me, because I want to use these instead of UDPP, not with UDPP. So there is no reason for me to keep these, since they don't do the job I want them to be able to do.
I am on the mailing list of E.L.F. the infamous $1 makeup brand that a has gained quite a reputation with beauty junkies  over the past few years. Well in the past several months E.LF. has been sending out emails where they are apologizing to the higher end brands because the ELF products are just as good if not better than the higher priced items.
These ads can be quite conversial especially when ELF takes it upon themselves to compare one of their products, such as their $3 dollar mineral eyeshadow to a much more expensive brand that goes between $15-20. The most recent ad that came out, today actually was ELF going against the brand Benefit. What got to me was that most of the ELF products looked nothing like the Benefit versions.
See for yourself. These are the Benefit that are being used in this promo: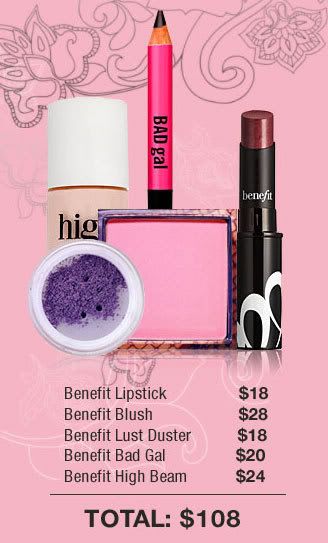 And here is what ELF thinks is comparable to these products: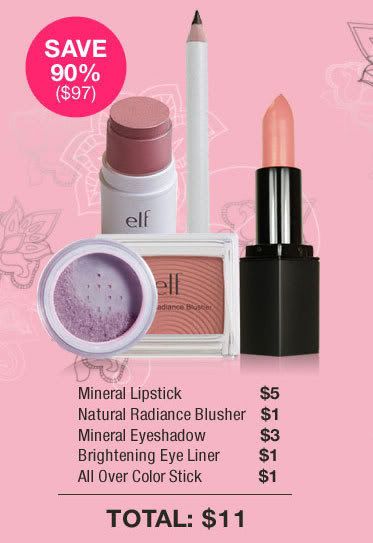 So what do you guys think? Is ELF right on the money, or is it just wishful thinking? I've personally never used Benefit before, but I have used a couple of ELF products in the past and I was not blown away honestly. Personally I've never used Benefit, but I would greatly assume their products would be better than ELF's.
Is this fair to Benefit?