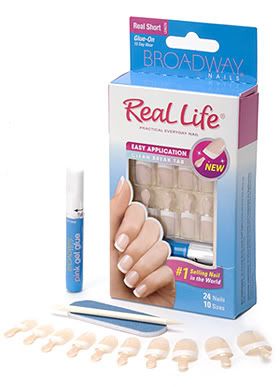 Name: Broadway Real Life French Nail Set
Product: 3/5
Price: $4.99
Available: Anywhere
Would I Purchase Again: NO
I can definitely see the advantage to using fake nails. They stay in place, and you alway look like you just had a mani at a five star salon. However I am not one of those people who have ever been tempted to use fake nails, but when I received these nails to test out and review, I thought, why not and I decided to give these babies, which were definitely cute a go. Well, this may just be from my inexperience from never using fake nails before, but I had a monster of a time getting these nails to look right on my hands. I really didn't care for the glue that came with these nails, it looked and smelled exactly like the super glue you would pick up at the store. The directions say that you apply a lot of glue to your natural nail and then to the fake nail and then press the fake nail to your real nail.
Unfortunately, one of my biggest problems with this product is that the glue dries super fast, so if you apply the nail even a little bit crooked, well, that nail is on there now, and the only way to get it off is to use acetone. You actually have to submerge the entire top half of the finger into the acetone for about 5 minutes to peel the nail off. This completely ruins the nail, making it impossible to move it to another nail. So you have to be extremely careful when applying these, or you will very easily ruin most of nails. The nails were decently sized, even though they are really short. My natural nail is longer than the fake nail, so these nails wouldn't have worked on my hands, unless I file them down. I wasn't about to do that, because I love my nails the way they are
Final Thoughts: There isn't much I can say about these nails, they are realistic looking and would be great for someone who wants a classic french mani without paying out the butt for regular salon visits. If you are used to applying fake nails, then these will be a dream for you. But for people like me, I will continue to just use my real nails and the hundreds of polishes I have in my room.