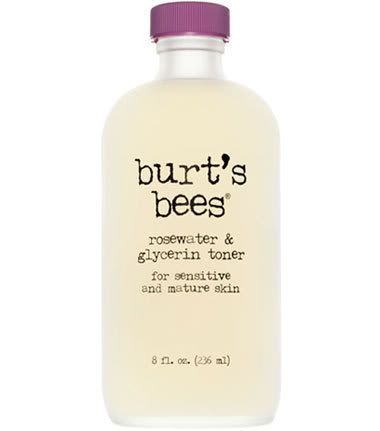 Name: Burt's Bees Rosewater and Glycerin Toner
Product: 5/5
Available: Select areas where Burt's Bees are sold, on the Burt's Bees Website, Drugstore.Com
I LOVE this product, for me, its a multitasking product that I use practically daily. This toner is created for Sensitive and Mature skin, but EVERYONE would benefit from owning this item. Unlike normal toners which can have a clinical smell to them, this one smells like roses, which is a nice change of pace. Another reason I love this product is that it has all natural ingredients and it does not cause my skin to break out.
I use this product as my sometimes toner when I want a break from my witch hazel, which I've been using for a long time. So when I take a break from the WH, I use my Rose Water toner. It makes my skin feel really refreshed after using it, and it doesn't tighten my skin either.
My other use for this product is my main reason for purchasing it. I use this as my mixing medium for my loose eyeshadows. I fill a little spray bottle full of this stuff and I then squirt a couple of sprays onto my brush and dip it into my pigment / mineral eyeshadow then I apply it to my lid with the patting technique.  This makes my eyeshadows  very vibrant and it helps them last longer than using just water, because the glycerin in this toner helps adhere the pigment to the eye better. I still use a base before applying the pigments though. I've been using this far more as a mixing medium than I ever did as a toner, and it has yet to aggravate my eyes in anyway.
Final Thoughts: The only problem I have with this particular product is that it is IMPOSSIBLE to find in stores. The first and only store I've seen carry this toner was a college bookstore in Gainesville, where I went to college. I bought it there for $12 and I'm still using the same bottle. However I've amped up my usage of this product a lot since I purchased it, and I'll probably run out of this stuff before long. So I am going to have a hard time of finding it again. I'm weary about ordering off the internet because it comes in a glass bottle – it's a sturdy bottle, but I'm not all together comfortable ordering glass containers filled with liquid off the internet. I still strongly recommend this product as an alternative to MAC's water based Mixing Medium, which is more expensive and it has been known to cause allergic reactions to some people. I think everyone who uses loose eyeshadows, or wants to start using them needs this product. It's a great steal, knowing that there is more than just one use for it.