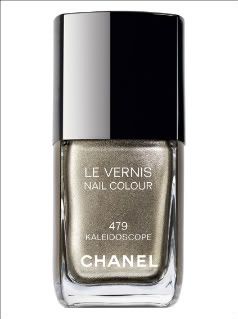 Ok, you guys know me as the queen of the cheap, which is a title that I wear proudly

. Well today I went to the Avenues Mall today, which is a mall that I rarely go to, and I wandered by the Chanel counter and low and behold, they had the infamous , almost completely sold out nail polish in Kaleidoscope. This is one of those colors that boggles the mind, seriously. This is also the most expensive nail polish I have bought $20. This was a sort of impulsive buy, I like every other blogger in the beautysphere has been drooling over this color, but I tend to shy away from the Chanel counter because the sale girls seem extremely snobbish and rude
.
But this day, the stars had aligned in my favor, I went past the Chanel counter and low and behold, the Chanel girl was NICE!
GASP!
Not only that, but sitting prettily in its spot on the display was the tester bottle of Kaleidoscope. I gave in to the temptation and tried a little bit of the liquid goodness on my thumb. And trust me, when the light hit that color on my nail. I was gone.
IT WAS LOVE!
Needless to say, $21 later I walked away from the counter carrying in my purse a little bit of Chanel glamour. This was my first try at Chanel, and so far, I have been blown away. I plan on doing a review of this beautiful color, in all its glory, but I needed just needed to share this little haul of mine. I rarely ever purchase luxury items, but I just had to have this color. Everyone who has seen it, has fawned all over it. So I think it was a GREAT buy.
The review is coming soon