Here is all my foundations, concealers and powders. I actually rotate what I use, so everything does get some love. I wish I could say the same about my other makeup! Ha!
Mineral Foundations:
Aubrey Nicole in Medium Light Natural (Full Coverage)
Femme Couture Mineral Effects in Champagne
Wet N Wild Ultimate Foundation in Stage Light (This from when WnW first released their mineral foundation a few summers ago)
Traditional Foundations:
Sally Hansen Natural Beauty Inspired By Carmindy: Your Skin Foundation in Nude Beige (PERFECT MATCH)
Maybelline Dream Matte Mousse in Nude
Maybelline Mineral Power Liquid Foundation in Nude
Concealer:
MAC Studio Finish in NC20
The BodyShop Concealer Pencil in 03
NYX Concealer in a Jar in Light, Yellow and Green
Sephora Concealer Palette w/ green, lavender and flesh toned colors.
Pressed Powders:
Femme Couture Flawless Touch Pressed Powder in Light
Maybelline Dream Matte Powder in 4-5 Creamy
Maybelline Mineral Power Finishing Veil Powder in Light
Sephora Compact Foundation in D20 Warm Nude
Physician's Formula Powder Palette Multi-Colored Corrector in Green
Loose Powder:
NYC Smooth Skin Translucent Powder
Sally Hansen Natural Beauty Inspired By Carmindy Truly Translucent Powder in Light / Medium
Aromaleigh Ultra – Resolution Finish Powder in Clear
Hilighters:
Femme Couture Flawless Touch Brightening Corrective Pen
Femme Couture Mineral Effects Illuminator
L"Oreal Glam Bronze in Illuminator
MAC Pearlizer Sheer Pigment in Good As Gold
Physician's Formula Virtual Face Powder in Translucent Pearl
Jane Shimmering Blush in Wisteria
Revlon Bare It All Lustrious Powder in Peachy Tease, Buff Love, Goldi-Looks, and Pink A Boo
Wet n Wild Bronzzer in Acapulco Glow
Wet n Wild Silk Finish Blush in All Over Shimmer
I finally got around to taking pictures of my two NYX hauls from Cherry Culture and the NYX Cosmetics website.  I spent around $90, including shipping. I was very happy with everything I bought.
Sheer Gloss Tubes: I reviewed two of these babies here, and I loved them so much, despite their cons, that I decided to buy one in almost every color. I even bought 4 tubes of the clear, because I want to mix it with different pigments for personalized lipglosses. I'll probably take up close and personal pictures of the glosses once I place them into pots. I already placed a few into pots, as you can see in the picture
Pink
Plum
Red
Blush
Clear (4x)
Peach
Lilac
Nude
Taupe
Kiss
Beige
Posey
Gold
Fuchsia
Concealer in a Jars: I already own and love my Concealer in a Jar in the Light shade reviewed here, so I thought I would give the Green and Yellow colors a go. The green is suposed to counteract redness, and the yellow is for brightening up dark circles.
Yellow
Green
NYX Chrome Eyeshadows: I already owned several of these, and I really like their finely milled texture, so I picked up a couple of more colors.
Beauty Queen (Purple w/ Puple Glitter)
Geisha (Pink w/ Gold)
NYX Rouge Cream Blushes: I had never tried these before, but I was super curious, so I picked up two to try.
Rose Petal (Pinky / Peach)
Tea Rose (Tan / Pink)
NYX Shadow Trios: I had recieved testers of all of these in my Rep kit, but these were marked down to $2 a peice, so I picked up some of my favorite trios, so I would have them in the compacts.
Back Row (Left to Right):
Dandy
Shimmer/Peach/Copper
Princess Pink/Flamcenco/Violet
Front Row (Left to Right):
Guru
Beanie/Red Bronze/Red Bean
Anti Diva
Olive Grove
Eyeshadow Singles:
I picked up 15 of these singles from the sale. They were a buck and change on the NYX Cosmetics, so I went a little happy.
All together (Clickable – to make larger):
Broken up into groups:
Top Row (Left to Right):
Slate (On the End)
Toffee
Skin
Aqua Marine
Golden Sky
Aqua
Ceder Wood
Eutopia
Bottom Row (Left to Right):
Ballerina
Alaska
24 Karet
Dallas
Luster
Grey
Dune
Here are some close ups:
Well, that's it of my NYX Cosmetics haul. If you guys want swatches or close up images of anything, please let me know. Also leave a comment if you want a review of anything listed here. Don't forget I've already written a couple of reviews on these products.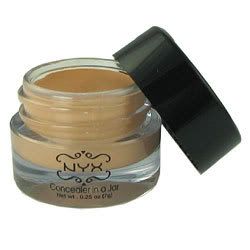 Name: NYX Jar Concealer
Product: 5/5
Price: $4-6

Available: NYX Cosmetics, Cherry Culture
Repurchase: YES
Ingredients: Caprylic/Capric Triglyceride, Mineral Oil, BHT, Microcrystalline Wax, Nylon-66, Octyldodecyl Myristate, Silica, Butylparaden, Fragrance, Ricinus Communis (Castor) Seed Oil, Ceresin, Dipentaerythrityl Hexahydroxystearate/ Hexarosinate, Polyethylene, Sorbitan Sequioleate, Tocopheryl Acetate. MAY CONTAIN: Titanium Dioxide, Iron Oxides, Chromium Oxide Greens, Ultramarines.
I LOVE this concealer. I actually received this product in LIGHT as a gift when I signed up to be a NYX Rep back in May of this year.  I never actually would have purchased this for myself, because I tend to have really sensitive skin when it comes to cream products. But because this product was free, I decided that I wouldn't lose much by trying it out. This stuff comes in an array of colors, ranging from light flesh toned colors to dark colors, and lavender, yellow and green for particular problem areas. I was never much of a concealer person before this product, but this just completely changed my mind. I applied some of this product with a concealer brush under my eyes and over blemishes, blending it out with my fingers. The LIGHT color matched my skin color very well. It was just slightly lighter than my natural color. Which is just fine, because when it comes to concealers, I don't need it to match my skin color exactly. I cover it up with foundation anyway.
I always follow this concealer with my mineral foundation from Aubrey Nicole, in Medium Light Neutral in Full coverage. I did a review on this product that you can read here. I buff my foundation over this concealer and my foundie goes over easily, and you cannot tell that I am wearing a cream concealer under my foundie. I get a fresh looking face without the hint of a concealer under my eyes. This concealer does not flake or ball up under my foundation for the entire day.
After I apply everything, this concealer stays on pretty much the whole day, it does however wear off the lower part of my face, especially around my chin buy the evening. The concealer did last longer under my eyes though. So it is definitely long lasting. Another thing I love about this concealer is that I DID NOT break out with this concealer. I have been using this stuff on my face for several months now, and I have not had any blemishes that were related to this product. I have combo oily skin, so I thought this was something worth mentioning, because of my skin sensitivity.
Final Thoughts: I think this would be a great concealer for someone who is looking for something that is long lasting, heavy coverage, and cheap. The packaging is plastic and cheap and you either need to use a concealer brush or your fingers to apply it. This stuff is very pigmented so a little bit can go a long, long way, which means a jar of this stuff can easily last you months. So the next time you are in need of a concealer, give this stuff a second look. I eventually plan on getting the yellow, lavender and green versions, so I can cover my problem areas even better.