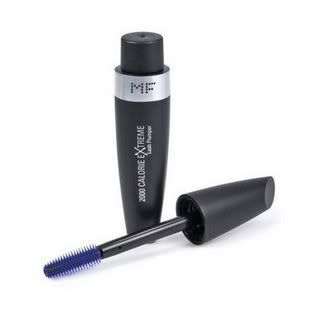 Name: Max Factor 2000 Calorie Extreme Lash Plumper
Product: 5/5
Price $8-10
Available: Anywhere Max Factor is sold
Two words: LASH BLAST. This mascara is Lash Blast in a black tube. I already own and love LB, so this wasn't exactly a bad revelation. Since Max Factor and Cover Girl are owned by Proctor & Gamble. Since I never reviewed Lash Blast, consider this review a review of both mascaras, since they perform exactly the same.
The bottle and handle of this mascara is quite large, but not unmanagable. It takes some time to get used to, but it is possible to use with smaller eyes. The brush is large and has small plastic bristles, but I actually prefer plastic bristles to traditional brushes. This mascara definitely adds volume and length to my lashes. What surprised me was I get a true curl with this mascara that I never noticed before with Lash Blast. It's not because of formula or anything, but I started to twirl the brush as I applied it. I get the same effect now with Lash Blast.
I totally recommend this mascara for anyone who wants a great everyday mascara with a little WOW factor. Since Lash Blast and this mascara is one and the same. I would say get whatever mascara is cheaper at the time of the purchase.
More reviews are availbale at TotalBeauty….