One thing is certain, I have wayyy too many lipsticks, and those lipsticks tend to take up a lot of space in my makeup stash. So I decided it was time to do something about it. I bought a ton of little 5 gram jars and I took the lipsticks and melted them in a stainless steel ladle and make little lippie pots. I actually prefer potted lipsticks and lipglosses, because it gives me the best opportunity to use lip brushes, which I love.
When I learned the technique for doing this, I followed Enkore's tutorial on youtube. He made it look sooo easy. And I think I'm getting better at it, now that i figured out the correct way of pouring the melted lipstick into the pot.
So, if doing this will help you, then check out his tutorial
Part I
Part II
So if you are bored, give this a shot, but just be very careful
Dealing with heat and flames is very dangerous. So just be safe
.
Holy Crow!! 4 posts in one day!!! I must be really bored! LMAO!! Anyway here is how I store/ palette my NYX Trios from the Testers. These are my own pictures.
By the Way, my camera succckkkkssss!
Here are all five "palettes" closed. The white label says which trios are in the tins.
This next picture is that of all the palettes open and showing off all their pretty colors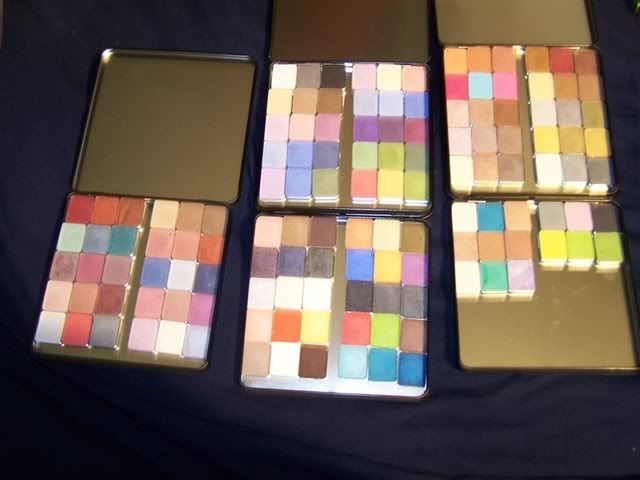 Aren't alll of those colors pretty
Jealous….?
This next picture is a close up of one of the palettes. This will also give you an idea of how big the eyeshadows really are. This picture is very accurate when it comes to the actual colors. I am actually holding this pan right side up, so you can how well the magnets hold them in.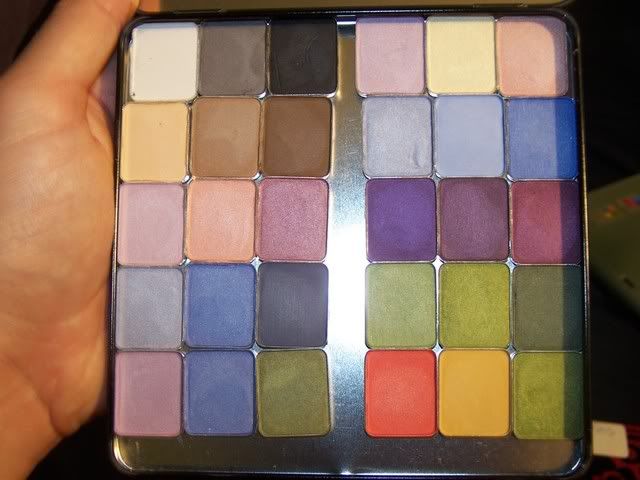 Finally, here is a close up of one of the backs of the eyeshadows. This way you can see how I label the back of them. I have the Trio number and what color it is. The bottom part of the eyeshadow is the magnet. I only put the magnet on one half of the pan, not all of it.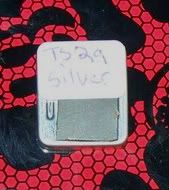 I hope this little pictorial helps you in your depotting adventures!!!
Some of you gals have been asking me what palettes I put my depotted NYX trios in. Since the trios I have come from the tester bag, they are smaller and rectangle shaped. I will post what I use personally later tonight or tomorrow, and until then, this should help you