Here are some swatches of the ELF Mineral lipsticks that I got in my haul today.
Left to Right
Ripe Rose
Cool Coral (Coy Coral on the site)
Nicely Nude
Natural Nymph
Swatches:
Nicely Nude, Ripe Rose
Coy Coral, Natural Nymph
Here is my ELF Mineral haul that I made at the end of June. I took pics of everything, I didn't take individual product pics, but I can if you guys want me too.
I used the 5for5mineral code that gave me 50% off all mineral products. I filled my cart with $80 worth mineral product, which gave me Free Shipping and then used the code, which took 50% off. So my entire order came to be $40 with free shipping for everything.
I picked up 22 items all together.
Eyeshadows:
Natural
Caffeinated
Girly
Partier
Royal
Trendy
Celebrity
Socialite
Earthy
Wild
Temptress
Mysterious
Confident
Sassy

Lipsticks: Left to Right
Ripe Rose
Cool Coral (Coy Coral on the site)
Nicely Nude
Natural Nymph
Blushes:
Rose
Coral
Plum
ELF Mineral Eyeshadow Primer:
Mineral Primer compared to the full sized lipstick:
I am on the mailing list of E.L.F. the infamous $1 makeup brand that a has gained quite a reputation with beauty junkies  over the past few years. Well in the past several months E.LF. has been sending out emails where they are apologizing to the higher end brands because the ELF products are just as good if not better than the higher priced items.
These ads can be quite conversial especially when ELF takes it upon themselves to compare one of their products, such as their $3 dollar mineral eyeshadow to a much more expensive brand that goes between $15-20. The most recent ad that came out, today actually was ELF going against the brand Benefit. What got to me was that most of the ELF products looked nothing like the Benefit versions.
See for yourself. These are the Benefit that are being used in this promo: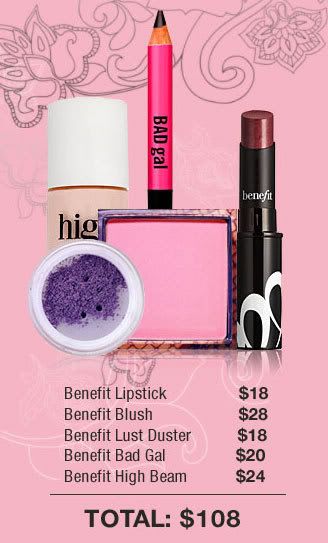 And here is what ELF thinks is comparable to these products: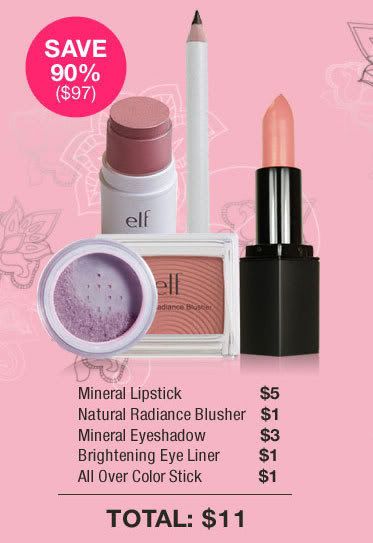 So what do you guys think? Is ELF right on the money, or is it just wishful thinking? I've personally never used Benefit before, but I have used a couple of ELF products in the past and I was not blown away honestly. Personally I've never used Benefit, but I would greatly assume their products would be better than ELF's.
Is this fair to Benefit?