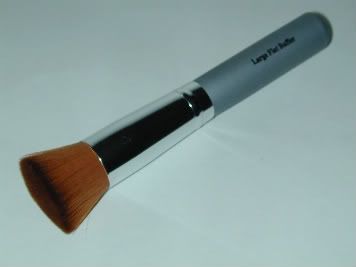 Product: Forever Female Synthetic Flat Top
Price: $17.50
Recommended: YES
In the MMU world, many of the top companies sell Forever Female's synthetic brushes, including Silk Naturals, Aromaleigh, and Aubrey Nicole. This brush was my first flat top that I purchased, and I was thrilled with my new best friend. This brush is incredibly soft, it was the softest brush I had ever owned up to that point in my life. Before I purchased this brush I was using my EOB kabuki (review coming soon) from CVS with my mineral foundation, and I had been wanting to try a flat top brush, but I didn't want to buy a crappy one. So after a lot of research and reading different reviews of brushes on Makeup Talk and Makeup Alley, I decided on this brush.
The brush itself is a sturdy brush with a long handle and the bristles are as soft as velvet and very, very dense. The brush applies the minerals smoothly and gives heavier coverage than my kabuki because I can buff the powder into my skin more efficiently, and use less product than I did with my kabuki. Another thing I love about this brush is that it has synthetic bristles, so you can dampen the brush and apply your minerals wet to your face without damaging the bristles like you would with the natural hair brushes. I've had no problems with the brush shedding, and I've washed several times since purchasing it in December.
There isn't really anything else to say about this brush, other than if you are a user of mmu, you NEED this brush.