Primer: UDPP
Lid: Ben Nye Grande Lumiere Pressed Shadow in Iced Gold (White Gold)
Crease / Outer V: NYX Loose Pigment in Mocha Pearl (Taupe)
Contour (Over NYX): L'Oreal Wear Infinite in Golden Olive: (Golden Green)
Eyeliner: HiP Cream Liner in Brown
I truly wish I could take a picture of this – it is absolutely amazing, and I'm completely in love with this look. I think this will become my go to everyday green and gold look. It's soft enough to wear during the day, especially using brown eyeliner instead of black. This makes my brown eyes shine, and even gives them a hint of green.
I used a peachy blush – Wet N Wild Mega Glo powder in Spotlight Peach and a lipglass from the new MAC Rose Romance Collection in Steal My Heart, which is being returned.
I am returning Steal My Heart, because it looks like a meduim bright pink in the bottle, and then when it is on the lips or swatched, it adds very little color to the lips. I also recently purchased some of Wet N Wild's new Speed Glosses and the color Untamed is a more pigmented version of Steal My Heart. They look different in the bottles, but when they are on the skin and lips, Wet N Wild wins in the pigmentation arena. It's also less sticky and thinner than the lipglass as well.
So skip Steal My Heart and grab Untamed instead. Infact Walgreens has Wet N Wild on sale right now, BOGO Free.
This is my face for today. I was playing around at my vanity and I came up with this look. I normally wouldn't post this, but this picture came out AMAZING! I had originally decided not to post my face on this blog, not because I don't have my face on the internet, I have both a myspace and facebook with my picture on them. But I have never posted my face on an actual website before. So here is a first time for everything.
I'm not to do a tutorial or anything but I will tell what products I used. They are all NYX products.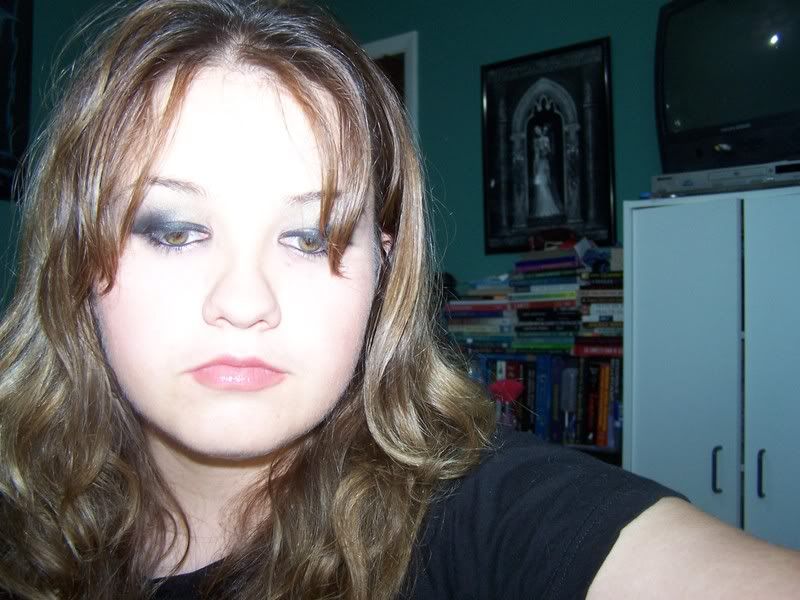 Eyes:
Trio # 3 Nude all over lid up to brow bone
Trio #1 Black outer lid and crease, blended into Nude
Trio #2 Barely There as highlight blended into the crease
HIP Cream Liner in Black on upper lid and lower waterline
Lips:
Lip Pencil in Natural lined and filled in the lips completely
Mega Shine LipGloss in Crystal Soda
That is everything I used in creating this look. The lips are not actually that pink. They are more peachy / neutral than what they are showing in this picture.
Well, I hoped you enjoyed this little FOTD
I'm quite proud of this look