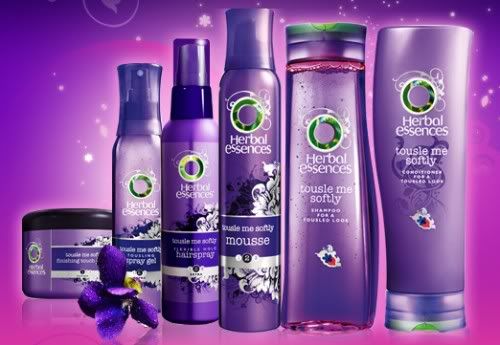 Name: Herbal Essences Tousle Me Softly Collection
Price: $2.99- 5.49 each
Available: Anywhere Herbal Essences is available
Here is the rest of the Tousle Me Softly collection. Earlier this week I wrote up a positive review on the Shampoo and Conditioner from this collection. Today I am going to do mini reviews for the rest of the products.
Tousle Me Softly Mousse: I tried this both in my hair and in my aunt's hair, and the result was the same. Disappointing. This product is extremely light weight in both texture and hold. My hair is really thick and straight, and my aunt has really fine hair that is quite thin. This product had no hold in either of our hair. Worthless
Product 1/5
Tousle Me Softly Hair Spray: This product is a lot better than the Mousse. I never use hairspray, but I tried this one for review purposes. This is quite nice, it doesn't leave my hair smelling of alcohol – like other hair sprays. It holds my hair in place, and doesn't turn it into a crunchy, hard mess. This also works equally well in my aunt's hair as well.
Product: 4/5
Tousle Me Softly Spray Gel: This does the job that a spray gel is supposed to do. This has a pretty decent hold and it leaves the wet look that is trendy right now. I personally don't like that look however, but that is just my personal taste. This is allows for hair to be textured, and it will actually hold the hair in place. Just not something I'll ever use.
Product: 4/5
Tousle Me Softly: Finishing Cream: This is the only other product other than the Shampoo and the Conditioner that I actually like. This comes in a tub and it for smoothing out the frizzies. Since I live in a high humidty area, this is very nice to have. This can be used in both wet and dry hair. It helps keep my, and my aunt's hair smooth and frizz free. My aunt's hair is worse than mine when it comes to frizziness, so it works really well. This is not a substitution for a deep conditioning treatment.
Product: 5/5
You can get more reviews on these products and more at Total Beauty….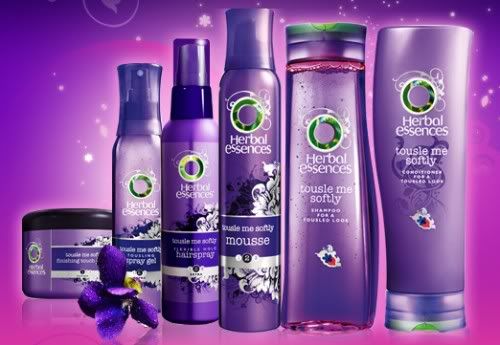 Name: Herbal Essences Tousle Me Softly Shampoo & Conditioner
Product: 4/5
Price: $2.99 each
Available: Anywhere Herbal Essences is sold
I received the complete Herbal Essences Tousle Me Softly from Total Beauty to test out and review. I was almost out of Shampoo and Conditioner when I got these, so I started testing out the Shampoo and Conditioner that very night. I am not someone who likes using styling products in my hair, so I have yet to try any of the other products I received.
I have been using the shampoo and conditioner on and off for the past few weeks, and I quite enjoy the products for what they are. Shampoo and conditioner doesn't actually have anything to do with how tousled your hair eventually ends up. That is where the styling products come in at. The purpose of the shampoo and conditioner is to clean the hair and prep it for the styling, and these do it well. My hair didn't dry out or feel oily after using the products. My hair wasn't all that moisturized, which is usually something I look for in shampoo and conditioner, but these products never made the claim to be moisturizing, so I can't really count this as a negative.
I think these are a good buy if you are looking for a new shampoo and conditioner to try. There are definitely better products available in this price range that does give more moisture, such as Aussie Opposites Attract Protect and Soften. However, if you are lucky enough to score these on sale, then I definitely recommend that you pick up a bottle or two and  give it a whirl.
You can get more views on Herbal Essences Tousle Me Softly Products on Total Beauty.com
Imagine my surprise when I got a new package in this morning that contained my next set of Total Beauty Sneak Peak program!!! A lot of the times when I get something from Total Beauty, it's something that I typically wouldn't be interested in and spend my hard earned money on. Well, this time I was truly excited to receive these items.
I have actually been running low on my fave shampoo and conditioner combo (Aussie Opposites Attract Protect & Soften), and have been dragging my feet on purchasing a new set. Have I mentioned before that I'm really cheap? LOL. Anyway I had been eyeing the new hair care collections that have been coming out from Herbal Essences, even though I didn't care for Totally Twisted.
So today in the box, I recieved the full line of Herbal Essences new line called "Tousle Me Softly." I am already loving the deep purple and floral design of the bottles, so I am excited to break into the products tonight.
Here is everything I recieved:
Tousle Me Softly Shampoo
Tousle Me Softly Conditioner
Tousle Me Softly Hairspray Fixtif
Tousle Me Softly Mousse
Tousle Me Softly Spray Gel
Tousle Me Softly Finishing Touch Cream
Everything execpt the Finishing Touch Cream runs for about $3. The Finishing Cream is a little bit more expensive at $5.49 or so. So keep an eye out for future reviews on these products!!!