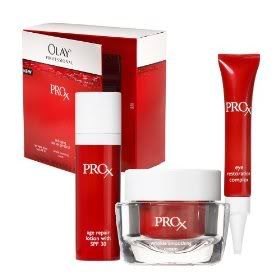 Name: Olay Pro X Starter Protocol
Product: 0.5/5
Price: $60-65
Available: Anywhere Olay is sold
This was my second foray into using an anti aging regime and this is the second time I have been throughly disappointed. It may just be my age, I'm 23 so I personally don't have a lot of anti aging problems to deal with right now. Understanding this – I wasn't exactly sure what to expect with these products, but it definitely wasn't the results I was recieved. I'm going to review each product seperately, so that I cover everything I need to.
About Age Repair Lotion w/ SPF 30: I love SPF – the higher the better. I normally try to stay between 30-45 SPF, so I was happy to try this product out. When I used this lotion, it did not moisturize my skin, even a little – which is something I expect from something called "LOTION." I was also turned off by this product, because it began to irrate my eyes when I applied it to my skin near, not IN my eyes. So I will not be using this product again. To be fair, I do have somewhat sensitive eyes, but you would not expect this from a product that is $40 or so dollars by itself.
About Wrinkles Repair Cream: I don't really have any wrinkles, just a few expression lines on my forehead – which are perfectly normal for someone who is my age. I tried this cream on my forehead, and I got no results what so ever. It didn't work on my shallow wrinkles – so I'm not too confident that it will do anything worth while for deeper wrinkles.
About Eye Restoration Complex: I actually have dark circles under my eyes – and the area is also pretty dry as well. I have never used an eye cream, so I had high hopes that this serum would zap my problems and make eventually make them better. Well, this cream did not moisturize my under eye area, which is one of the benefits that are advertised with this product. I also saw no difference in my under eye circles either. So this to me, makes this product basically useless.
As you can see, I really didn't have anything good to say about this starter kit. From the reviews I have read on these products, I know others have had the same problems as well. To top everything off, these products were starting to break me out when I stopped using these items. I obviously don't recommend the Pro X line – but I've heard amazing things from the Regenerist Line from Olay. Many members of my family use and love this line. Then again, there are family members that also love the Pro X line as well. So this line may work for you as well.
Get more reviews on these products here, here and here at Total Beauty….