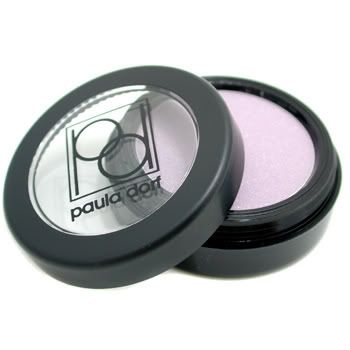 Name: Paula Dorf Eye Glimmer in Prism
Product: 5/5
Price: $20
Available: Wherever Paula Dorf Cosmetics are sold
I picked this color up on a whim when I saw that my local upscale beauty boutique was having a 50% off sale on Paula Dorf. I ended up picking up this color along with three other eyeshadows and a blush. Out of everything I picked  up, this has to be my favorite color of the bunch, it is the one I reach for most often.
The color is a light lavender with gold shimmer in it. It is nicely pigmented and the color shows up quite well on my light – medium neutral skin. I honestly think this color would look great on most skin tones. The lavender gives it a cool tone, but the shimmer in it warms it up so it look great on warmer skins as well. The eyeshadow, is quite pricey at $20, but the pot is absolutely huge – think Stila sized pots. I have a feeling that this thing will last me forever, I've used it many times, and I haven't even BEGUN to make a dent in this monster eyeshadow. So to me, it was well worth the $10 I paid for it, it would even be worth the $20 it would normally cost to purchase this eyeshadow.
Final Thoughts: There isn't much else I can say about this eyeshadow, other than it can be used in neutral, work safe environments and for nights out on the town. I think that every woman needs to have this color in their stash as a staple. As for finding dupes to this color, I have yet to come a cross a color that is exactly like this in any other brand, which makes it all the more special.