I was hanging out at my favorite store, Target and I came across a new line of body washes from SoftSoap, a company that is well known for it's hand soaps. The new line is called Spa Radiant and it consists of three different types of body washes; purifying, exfoliating and moisturizing.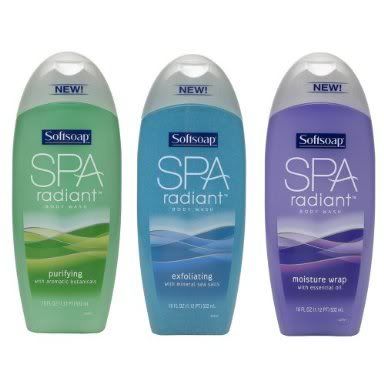 Purfiying: Give dull, tired skin a pick-me-up with this purfying experience. Enriched with aromatic botanicals our formula works with the steam from your shower to help you feel more revitalized.
Exfoliating: Reveal a more radiant you with this daily exfoliating experience. Enriched with mineral sea salts this daily exfoliating formula gently removes dull skin. Step out of each show with that after-spa glow
Moisture Wrap: For a daily quenching experience, reach for this ultra creamy moisture wrap formula. Our formula, enriched with essential oil works with the steam of your shower to soften and nourish even the driest of skin.
I personally own and LOVE Exfoliating and Moisture Wrap, and I have already bought huge back ups of both versions. I have yet to try the Purfying version, but I am thinking it is going to be as awesome as the other two. I plan on doing reviews the body washes soon.
So while you guys wait for my reviews, check out these body washes available basically anywhere. If you head to target, you can print out this TARGET COUPON for $1 off any Spa Radiant product. You can print out more than one and buy more than one bottle of this stuff.
Enjoy!